Bell Takes The Palm Pre Bowling
Monday, August 31, 2009 8:02:02 AM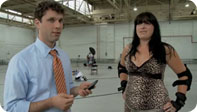 Dear great pasta monster in the sky. I don't ever want to meet Coupe D'Kill of the Gorgor Roller-Girls in a dark alley. Come to think of it, I don't want to meet her anywhere without being surrounded by bodyguards. In episode 4 of the entertaining "Meet My Palm Pre" videos, Bell's roving Palm Pre spruiker, Bradley, takes the Palm Pre out to meet the hardcore elite of Canadian sport: roller-girls and lawn bowlers!
This episode makes a great case for the Pre's intuitiveness: even old people can learn it! The money quote: "What is Wikipedia?" As usual, embed after the break...
Leave a comment...

Click on the
Start New Comment button
below to begin a discussion.
You must be
registered
and
logged in
to add comments.