Palm Pre Sync Solutions Emerge
Monday, June 8, 2009 1:23:25 PM
For those of you that need more than Synergy and Microsoft Exchange for your Palm Pre syncing needs, a number of new synchronization software options have just been announced.
Software from CompanionLink, Chapura and eventually Mark/Space will help assist Pre users sync over data stored in various other software solutions. Each of the companies has a current solution for some situations and each is working on more robust options once the webOS SDK is publicly available.
CompanionLink

CompanionLink has a solution for Pre users that allows for standalone Microsoft Outlook users to two-way sync their contacts, calendar and tasks to Google. CompanionLink for Google sells for $29.95, with a 14-day free trial available, and comes with free technical support. The software supports two-way sync with both personal Google accounts and Google Apps accounts.
The company is also working on a more robust solution once the webOS SDK is available.
"We look forward to Palm announcing a Synergy SDK to allow CompanionLink to synchronize Outlook, Lotus Notes, ACT! by Sage, Outlook Business Contact Manager, and Novell GroupWise data directly to the Palm Pre. Until that time, our currently available products will support the early adopters of the Palm Pre. As we improve our products, Palm Pre users will be able to upgrade without charge by downloading from our website," says Wayland Bruns, CEO of CompanionLink Software.
Chapura

Chapura has announced PocketMirror Standard for Palm webOS, the first software product to offer users of the new Palm Pre phone the ability to synchronize data with non-EAS desktop versions of Microsoft Outlook. PocketMirror Standard for webOS provides complete two-way synchronization which transfers essential information between desktop versions of Outlook Contacts and Calendar and the corresponding Pre applications without cables. PocketMirror Standard synchronizes over the local Wi-Fi network using a secure transfer process that never stores or passes users' PIM data over the web; it is a direct synchronization between Windows PC and Pre.
Echo for Palm Desktop

Chapura has also. announced Echo for Palm Desktop, which will provide Palm Desktop Date Book and Address Book synchronization with Pre. Echo for Palm Desktop allows current Palm Desktop users to continue to use their information manager of choice with Palm's groundbreaking device. Echo for Palm Desktop will make the Palm Pre phone an easy upgrade decision for many current Palm OS users.
PocketMirror Standard for webOS will be available from Pre's on-device beta App Catalog shortly after general availability of Pre. Echo for Palm Desktop will be available in the second half of 2009. Pricing information for each product has not been made public.
The Missing Sync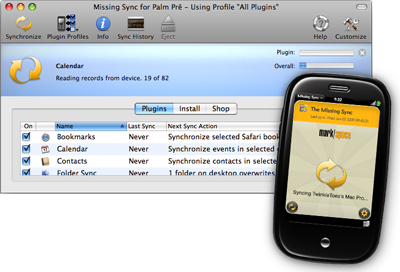 Longtime Mac heads, Mark/Space have just updated their website with information on their forthcoming Missing Sync for Palm Pre software. The software will allow Windows and Mac OS users to transfer and sync information and files between your Mac and Pre with Apple's Address Book, iTunes, iCal, Entourage, Safari and iPhoto. The app will also provide the ability to synchronize contacts and calendars automatically and wirelessly, via WiFi.
Mark/Space has not yet announced details on availability. Interested users are encouraged to signup for their newsletter.
Article Comments
(7 comments)
The following comments are owned by whoever posted them. PalmInfocenter is not responsible for them in any way.
Please Login or register here to add your comments.