Mark/Space Announces Next Gen Mac Hotsync Client
Thursday, June 24, 2004 11:49:44 AM
Mark/Space has announced version 4.0 of The Missing Sync for Palm OS. Expected to ship in August, this version supersedes PalmSource's aging HotSync Manager for Mac OS X.
"When we set out to revitalize Mac-to-Palm synchronization, it was our intention to provide users with three things," said Brian Hall, Mark/Space CEO, "Compatibility with existing software conduits, cool new features like Wi-Fi synchronization and confidence that a dedicated company with many years of Mac and Palm OS expertise is supporting their needs. We've succeeded in providing a solution that will ensure the future of Mac-to-Palm synchronization."
Perhaps the most critical feature of The Missing Sync for Palm OS is that it supports dozens of existing Palm conduits for the Mac, including Apple's freely available iSync Palm conduit and Microsoft's Entourage conduit, offering a seamless experience for users who switch from HotSync Manager.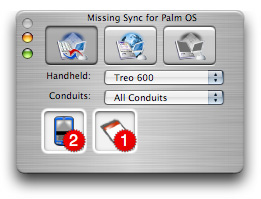 The Missing Sync for Palm OS sports an brushed-metal interface that presents the user with easy access to the most-used features. One such feature, called Conduit Profiles, allows the user to save a group of specific conduits as a set so it can be employed again later. For example, to install an application on the handheld without waiting for other information to synchronize, the user would simply choose the Install Profile and sync. This way, no time is spent running unnecessary conduits.
Other features include Wi-Fi (802.11) network sync, painless Bluetooth synchronization, desktop mounting of memory cards, iPhoto and iTunes integration, Internet sharing for sending and receiving email or downloading AvantGo content, a streamlined mini-window view, improved install and backup capabilities and SyncMinder, a user-configurable alarm that reminds the user when it's time to sync.
At the PalmSource Developer Conference in February, PalmSource announced that Palm OS Cobalt (Palm OS 6) would not include Mac synchronization software. Mark/Space immediately responded by announcing that it would provide the next generation of Mac-to-handheld synchronization infrastructure. Instead of waiting for new devices to become available, Mark/Space is releasing it's innovative synchronization solution for Palm OS 4 and Palm OS 5 handhelds.
One of the most requested features from conduit developers is the ability to create conduits using modern tools such as Apple's Xcode. Mark/Space engineers have not only made it possible for conduits to be created with Xcode and compiled as native Mach-O executables, they have also built a framework that allows developers to use Objective-C and Cocoa for conduit development. In addition, existing conduits developed in Metrowerks CodeWarrior are supported using the current PalmSource Conduit Development Kit (CDK) 4.0.3.
Mark/Space representatives will attend Apple's Worldwide Developer conference next week, where they will invite conduit developers to try a beta release of The Missing Sync for Palm OS and provide them with technical information on conduit development. Interested parties may apply to be a beta tester.
Version 4.0 of The Missing Sync for Palm OS is expected to be available from the Mark/Space online store in August and will cost $39.95 for electronic download, $49.95 for the CD. This product replaces several existing products that will qualify users for discounted upgrade prices of $19.95 for electronic download, $24.95 plus shipping and handling for a CD. Additionally, anyone who purchases select Missing Sync products will receive a free upgrade to the new version.
Article Comments
(11 comments)
The following comments are owned by whoever posted them. PalmInfocenter is not responsible for them in any way.
Please Login or register here to add your comments.

Comments Closed
This article is no longer accepting new comments.