Alltel Treo Pro Now For Sale
Wednesday, March 4, 2009 10:01:02 AM
Although most didn't expect to hear much more out of Alltel in the post-Verizon acquisition period, they have seemingly come from out of nowhere to steal Sprint's thunder with the Treo Pro. Alltel has now quietly become the first U.S. carrier to offer a subsidized, officially carrier-endorsed version of the Treo Pro smartphone for sale. Just days after the Alltel Treo Pro rumor made the rounds online, the device has just appeared for sale on Alltel's web store for most zip codes, beating the BGR's reported March 5th launch date.
The Alltel-branded of the Treo Pro looks identical in all aspects to the GSM and Sprint versions and carries a $199 price tag with a new 2-year contract and after a $125 mail-in rebate. In addition, online orders receive a free Bluetooth handset with purchase.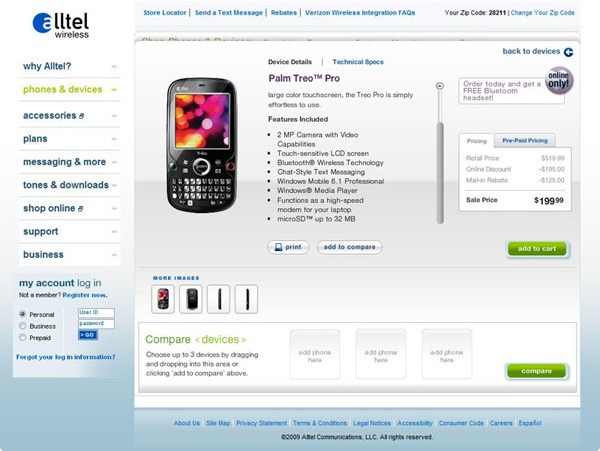 Alltel Treo Pro page - Click for Larger
The scant online specs do not reveal any noticeable differences in hardware or software over the Sprint version, but this is likely a "generic" CDMA version (similar to the Treo Pros already on sale in Canada as well as Latin and South American countries) devoid of the various Sprint software bundled software customizations such as NFL, Sprint TV, Pocket Express, etc.
While unconfirmed, the Alltel version of the CDMA Treo Pro will presumably carry the enhanced hardware of the Sprint version that we reported on in January.
Leave a comment...

Click on the
Start New Comment button
below to begin a discussion.
You must be
registered
and
logged in
to add comments.