Palm Pre Battery Capacity Confirmed
Thursday, January 15, 2009 12:38:32 PM

One of the items of initial concerns by many users and members of the media following Palm's Pre CES announcement was the device's battery capacity. TreoCentral's Dieter Bohn has now confirmed that the Pre's battery is going to be 1150mAh and exactly identical in dimensions to the existing stock Centro and Treo 800w batteries.
While this is certain to come as very good news to current Centro and 800w owners looking to upgrade to the Pre, power users may feel left out in the cold, as Palm's previous flagship device, the Windows Mobile 6.1-based Treo Pro, ships with a mighty 1500mAh battery standard. Fortunately, one advantage of the Pre's shared battery architecture between the older 800w and Centro means that replacement batteries and widely and affordably available on the market, including Seidio's extended-capacity OEM-size 1350mAh Centro/800wbattery, covered here.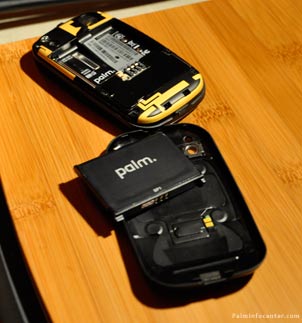 With this aspect now confirmed, one of the greatest remaining mysterious about the device's hardware specs has been addressed. While Palm kept touting the removable battery design of the Pre during last week's CES events, they failed to give any specific mention of the battery's exact capacity. At the Palm VIP press event following the keynote event, I was told by a Palm rep that the battery was 1200mAh in, and "basically similar to the Centro design" as I noted here. The rep stated that the batteries were compatible between the 800w, Centro and Pre but Palm did not "recommend" that Centro batteries be used with the Pre.
Let's hope that the combination of the TI OMAP 3430 processor and the Linux-based WebOS will make for a fairly efficient device, as the combination of more frequent data transmissions to the "cloud", an EVDO Rev. A radio (CDMA being notoriously more power hungry than GSM), wi-fi, and a larger, higher resolution screen than any previous Palm smartphone could make for a potentially energy—sapping device.
Article Comments
(26 comments)
The following comments are owned by whoever posted them. PalmInfocenter is not responsible for them in any way.
Please Login or register here to add your comments.