Extended Capacity Palm Centro and Treo 800w Battery Released
Friday, September 5, 2008 9:03:48 AM

In what is certain to be received with a sigh of relief from power users everywhere, longtime accessory aces Seidio have finally released a higher-capacity OEM-sized battery for the Palm Centro and Treo 800w.
First up is the new Innocell 1350. This new release fits both the Treo 800w and Centro under their stock battery doors. Packing 1350mAh, an improvement of 15% over the stock 1150mAh battery, the boost provided by this battery is not as large of a leap forward as Seidio's past batteries. However, considering the slim dimensions of the stock Palm battery, any improvement is greatly appreciated, especially with the power-hungry GPS and wi-fi capabilities built into the Treo 800w.
After waiting nearly a year for some kind of improved battery design, many Centro users had feared that an extended OEM-size battery was impossibility.
For users looking for a considerable amount of added juice, Seidio has received new stock of their older Innocell 2600 extended size battery for the Centro and 800w. This battery is one of the famous "rumpshaker" humpback designs that require a replacement battery door be fitted to the device. Approximately 4-5mm of increased device thickness is added by the battery and its included cover.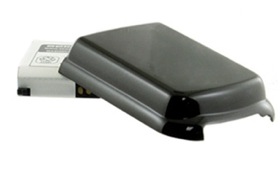 Seidio has thoughtfully seen fit to improve on Palm's original Centro door design by coating their replacement door in their trademark soft-touch rubberized paint for improved grip and comfort. The cover is currently offered only in black. Do note that the Centro and 800w do not share a common battery cover design so while the same battery will fit both devices, the proper door must be mated to each device. The 2600mAh Innocell has more than twice the capacity of the stock Centro and 800w battery.
While having a list price of $49.95, Seidio's Innocell 1350 is currently on sale for $39.95 + shipping. The Innocell 2600 has a list price of $59.95 but is currently on sale for $54.95 + shipping. According to a Seidio representative, the Innocell 1350 is currently in stock and shipping right now, as is the Centro version of the Innocell 2600. The Treo 800w version of the 2600 is still in development but is expected shortly.
Article Comments
(18 comments)
The following comments are owned by whoever posted them. PalmInfocenter is not responsible for them in any way.
Please Login or register here to add your comments.