How Palm Could Change Everything Editorial
Friday, January 2, 2009 2:51:10 PM
As mentioned yesterday, the Motley Fool concluded 2008 with several Palm-related articles. The first of the two covered here is entitled "How Palm Could Change Everything". The article is considerably more optimistic than its following partner piece and rather surprising in that it focuses not entirely on Palm's anticipated Nova OS January 8th announcement at CES in Las Vegas, but rather on Palm carving out an exclusive new niche in the market by revisiting the company's roots.
Long-time Palm OS fans still cling to fond memories of the efficient, speedy Graffiti stylus-based character input system that debuted on the original Pilot handheld and helped that device rocket to the top of the market but died a quiet death amidst heated litigation with Xerox (the implications of which are not addressed anywhere within the Fool article), changes in Palm OS product development, and of course, Treo QWERTY mania.
Written by Fool contributor Tim Beyers, this editorial suggests that Palm abandon the hard button QWERTY keyboards popularized by their Teo line and return with a modern take on the classic Graffiti stylus-based input system.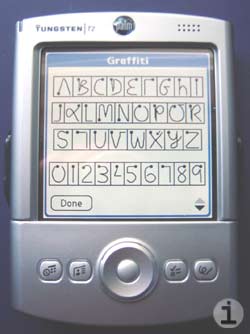 Beyers suggests a revamped version of Graffit, simply "3.0" debut alongside the new Nova OS as a "new Graffiti for a new era". Beyers goes on to say that such a stroke of genius (pun intended) could unite Palm's product line while adding support for multiple new formfactors. Such rationale would make a larger wireless tablet-sized device a logical extension of the product line and would assist Palm in breaking out of the tired square screen + QWERTY thumboard mold popularized by 2003's Treo 600 but depressingly revisited time after time in subsequent years. In fact, Palm has not released a device without a conventional QWERTY keyboard since their final two Palm OS-based handhelds, the Z22 and Palm TX, which were released with Graffiti 2 in October 2005.
At this point in piece, Beyers begins to lose track somewhat of his main focus, in advocating a return to the Foleo netbook-esque formfactor on the heels of the revamped Graffiti system. A touchscreen netbook would be limited by the limited accessibility of the screen, unless Palm were to make a tilting and swiveling screen, like HP's larger Windows Vista-based TX2500Z notebook tablets or, perhaps, Gigabyte's swiveling Atom-based touchscreen netbooks seen here but tragically currently unavailable in the USA. Indeed, a fairly low-cost, lightweight tablet-style device sized somewhere in between Nokia's N-series Internet Tablets and the Apple Newton would be a unique device from Palm, especially if it could combine Palm's superb PIM applications with strong media and online functionality.
Such a device would also give Palm an opportunity to bring in revenue from devices not dependent on carrier support and certification, perhaps even dipping a toe into the WiMax waters, as many users have suggested over the years. Unfortunately, much like how the Palm Foleo's thunder was stolen in 2007 by a slew of low-cost EEE PC netbookss from Asus, recent rumors have emerged to suggest that Apple is preparing a larger iPod Touch tablet device to be announced at MacWorld and launched sometime later this year.
Of course, it's easy to see the original Graffiti system with rose-tinted glasses, especially since a model natively utilizing the classic Graffiti unistroke system has not been released in over 6 years (the original Tungsten T). Both the classic Graffiti, alongside its Graffiti 2 replacement system derived from CIC's Jot, were love-it-or-hate-it affairs with a fairly steep learning curve. This aspect is unfortunately not touched upon by Beyers in the article, as Palm's earlier products devoid of keyboards were likely responsible for alienating nearly as many users as they garnered fans. Of course, a modern Linux-based, robust OS mated to larger LCDs and much more powerful hardware could make it possible for Palm to toggle seamlessly between stylus-based strokes or finger-based taps and onscreen keyboard input.
Beyers' advocacy of a new Treo utilizing Graffiti, assuming the conventional Treo formfactor is maintained, would likely be seen as a nice nod to nostalgia by a few longtime Palm OS users with little actual benefit in everyday usage. Such a device would see minimal gains from a modern take on Graffiti due to the small square touchscreen dimensions and the thin styli used on most recent Palm devices (regardless of OS). A distinct reference by Beyers to future Palm smartphones running Nova would have been appreciated here, as the specific "Treo" term is apparently going to be synonymous with "Windows Mobile" in Palm's future product roadmap, with the 755p seemingly the final Palm OS-based device officially carrying the Treo moniker. Of course, in what is truly an ironic twist to many former Palm OS users migrating to the Windows Mobile platform, let's not forget that Windows Mobile 2003, 5.0, and 6.x devices (including Palm's very own WM-based Treos) still are capable of utilizing a nearly-forgotten method of onscreen character input via stylus known as "Block Recognizer" method that is essentially identical to classic Palm Graffiti.
Fans of this piece would also be well-served to check out a slightly older and less technical Motley Fool article from December 18th entitled "Palm About to go Nova". Also written by Beyers, this piece was published on the heels of the "new" Palm mobile store announcement last month and immediately prior to Palm's most recent quarterly earnings announcement.
Article Comments
(60 comments)
The following comments are owned by whoever posted them. PalmInfocenter is not responsible for them in any way.
Please Login or register here to add your comments.

Only the first 50 comments are displayed within the article.
Click here for the full story discussion page...