Tech Ticker Interview with Elevation's Roger McNamee
Saturday, January 17, 2009 1:01:22 PM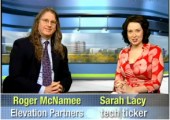 In a video posted Friday, Sarah Lacy of Yahoo's Tech Ticker has interviewed Elevation Partners' Roger McNamee on the reasons for Elevation's original investment in Palm and the relative strengths and weaknesses of the new Pre vs the likes of iPhone and Blackberry.
Apart from incredibly long, lustrous hair that would make Fabio cry himself to sleep, Roger also sports a Batman-style utility belt on which he carries every major smartphone on the market – including, amusingly, a broken first-gen iPhone with a dud battery. "If you're an investor in Palm, it's really handy to have with you a competitor's product that's a complete turkey," he jokes.
Hit the jump for the embedded video along with some of the best quotes transcripted, including a more detailed explanation of webOS's innovative "thinking ahead" design.
"The thing to understand... this is just the first product on the new platform that we call the Palm webOS."
On competitors:
"Right now, in today's market, Google Android has the best web experience. Apple obviously has the iTunes experience, there's corporate email on the Blackberry. But y'know, the problem is, most people, their life doesn't revolve around iTunes. And their life doesn't revolve around corporate email. These may be really important applications, but that's not your whole life. And the funny thing is, all this stuff comes from personal computer technology. And what we learned at Palm was "Hey, after ten years of personal computer operating systems, it gets old in the real world and it gets really old on a mobile device." So we thought we'd start all over... these guys are about to run out of gas – we're going to start a whole new era. And son-of-a-gun, that's what we're doing. The nice thing is that we introduced it last week at the Consumer Electronics Show... it was a Sally Field moment, right? Everybody liked it!"
On how their strategy is not predicated on "beating" those competitors:
"We embarked on this thing two years ago. We concluded that we would not make the investment if our success depended on the failure of either RIM or Apple."
On webOS thinking ahead:
"So when you wake up in the morning, it has taken your calendar and downloaded your maps for the whole day; it's downloaded the Wikipedias for the people you're going to visit and the companies you're going to see... why is it that on PCs you have to go and do all that? And when you're late – get this – when you're late... remember, this thing has GPS, it has a clock, and it has your calendar. So it not only knows where you are, it knows where you're supposed to be and when. And when it realises you're going to be late, it says "Hey – you're going to be late, but I can take care of that for you. I'll send an email to your assistant or the people you're meeting with. Which would you prefer? Oh and by the way, here's the map."
On the future:
"To us, this is the beginning of a new wave. These guys (gestures to iPhone, Android, Blackberry) are totally capable of getting there; our goal is to make them chase us."
Article Comments
(82 comments)
The following comments are owned by whoever posted them. PalmInfocenter is not responsible for them in any way.
Please Login or register here to add your comments.

Only the first 50 comments are displayed within the article.
Click here for the full story discussion page...