palmOne Announces the Tungsten T5 Handheld
Monday, October 4, 2004 12:00:01 AM

palmOne has officially announced the new Tungsten T5 handheld, which will be widely available in early November. The new T5 features 256MB of Flash memory, a 320x480 pixel display and Bluetooth wireless in a compact Tungsten E like form factor.
The palmOne Tungsten T5 handheld's flash memory protects information even if the device loses its charge, and doubles as a portable flash memory drive. The T5 runs Palm OS Garnet v5.4 with a high-resolution 320x480 color screen, Bluetooth wireless technology, and a sleek and slim design, the Tungsten T5 rises above conventional handheld limitations, giving users the folders and files they need whenever and wherever they need them.
Flash Memory
Flash memory, a form of electronic memory, is used for easy and safe information storage. Its low power consumption and light weight make flash memory ideal for mobile devices. In addition, flash memory holds information without a charge or power, just like a memory card saves pictures when not connected to a digital camera. The flash memory in the Tungsten T5 handheld will maintain its data, even when the power is exhausted. Simply charge the handheld again and the data is there. The T5 RAM is configured with 215 MB that is user accessible, 160 MB is used as an internal Flash drive, while 55MB is used for program and data memory.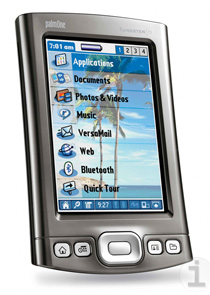 The Tungsten T5 also doubles as a flash drive, making data stored on the device easily accessible on the go. To access important information wherever it's necessary, the user simply selects Drive Mode on the handheld and plugs the HotSync cable into another computer's USB port. The user then can open, copy, move, rename, delete and manage files and folders while using the Tungsten T5 handheld as a removable drive.
Folders and Files
Users can drag and drop files and folders between the Tungsten T5 handheld and their desktop computers using palmOne's new File Transfer application. Simple and easy to use, a live desktop window gives users instant access to data and information stored in the handheld's internal drive. Users who have Palm Desktop installed at work and home can simply drag an important file to their internal drive, take their Tungsten T5 handheld home, plug it into their home computer's USB port and access the file. While on the go and away from a desktop, users can view their Word, Excel or PowerPoint documents on palmOne's highest-resolution color screen.
Strong support from DataViz Documents To Go 7.0 gives users the ability to create and edit Word and Excel compatible files and view and carry PowerPoint files with no desktop conversion required. Multimedia content, such as photos, music and videos, also can be stored in the Tungsten T5 handheld's internal memory.
A new Favorites view provides easy access to the applications, files and folders most important to the user, while a new Files application allows for easy navigation among folders and files.
Multi-Connector
The Tungsten T5 is the first new model from palmOne to feature the Multi-connector, a new common connector for palmOne products. Going forward this will be the new standard palmOne connector. With the Multi-connector you can directly plug in the AC adapter, and tricke charge from the USB cable. It also allows for future capabilities such as audio/video out.
Display
Documents, PowerPoint presentations, photos and even videos can be viewed in landscape or portrait mode on the Tungsten T5 handheld's 320x480 pixel transflective TFT display that supports over 65,000 colors. The display can easily be rotated to either portait or landscape mode with a tap of the status bar.
The Tungsten T5 gunmetal colored outside body is plastic and has dimensions of 4.76 x 3.08 x .61 inches (120 x 78 x 15.5 mm) and weighs 5.1 ounces (145 grams). A robust Intel 416MHz XScale processor provides plenty of power, and the built-in Bluetooth wireless technology lets users sync with a laptop computer or connect to a Bluetooth compatible phone to browse the web and get email.
The T5 will support the palmOne SDIO WiFi Expansion card.
The T5 has a 1300 mAH Li-Ion rechargeable battery, an upgrade from the previous T3 capacity. The processor also features new power management features. The Flash RAM also allows for a greater keep alive time, as the handheld does not have to supply power to the RAM in order to preserve the memory content.
New Accessories
Being introduced with the Tungsten T5 handheld is a host of new accessories, all available from the palmOne online store, including the following:
Tungsten T5 Hard Case -- Based on the best-selling Tungsten E hard case, this case provides strong protection in a sleek, brushed aluminum design. $39.99
Tungsten T5 Leather Case -- This premium slim leather custom case features luxurious suede interior and storage for credit and/or business cards and expansion cards. $29.99
Tungsten T5 USB Cradle Base -- This new stylishly designed HotSync and charging cradle works with inbox cables and charger and includes an audio out for stereo or powered speakers. $29.99
Tungsten T5 Cradle Kit -- The complete cradle kit for home or office, this product includes a Tungsten T5 cradle, a desktop USB HotSync cable and AC charger. $49.99
Combo Stylus with Pen Multipack -- This combo pack includes three convenient-to-carry pen and stylus combinations. $14.99
"Today's mobile professionals need greater access to their information, regardless of the data's size," said Ken Wirt, senior vice president of worldwide marketing for palmOne. "The Tungsten T5 handheld gives these highly mobile workers more storage capacity than any other handheld device. It also doubles as a flash drive, allowing people to carry their work from the office to home and back, without carrying a laptop."
Price and Availability
palmOne's Tungsten T5 handheld has an estimated U.S. street price of $399 and will be widely available on Nov. 3 from the palmOne online store and select retail stores worldwide. The company also announced a $50 price reduction of the Tungsten T3 handheld (review), now $349.
palmOne Discussion Forum | Pre-Order the Tungsten T5
Article Comments
(543 comments)
The following comments are owned by whoever posted them. PalmInfocenter is not responsible for them in any way.
Please Login or register here to add your comments.

Comments Closed
This article is no longer accepting new comments.

Only the first 50 comments are displayed within the article.
Click here for the full story discussion page...