Tapwave Reaches the UK, Singapore and S Korea
Wednesday, November 17, 2004 8:40:26 AM
Since launching the awarding-winning Zodiac multimedia handheld in the U.S., international demand has been high. In response, Tapwave recently formed partnerships with well-established companies in three major global markets to bring the Zodiac to local store shelves and online abroad.
In the UK, Tapwave has an exclusive partnership with the Dixons Group, who is selling the Zodiac through PC World, Dixons, Dixons Tax Free Stores, and Currys. In Singapore, Tapwave named ECS Holdings, LTD., as their exclusive distributor. ECS Holdings is a well-established local Singapore distributor who carries and promotes leading consumer electronic products including Apple and Hewlett Packard. In Korea, Tapwave is partnering with Sonokong, who is co-branding the Zodiac and promoting it through retail and online distribution.
"With our new partners, we can now fulfill demand in these key international markets...and we are not stopping there," said Byron Connell, co-founder of Tapwave. "In the months ahead, the company will continue to evaluate new opportunities and expand distribution into other markets."
The Tapwave Zodiac offers a high-resolution (480x320) 3.8-inch color display, Yamaha audio with stereo speakers and vibration effects. With integrated Bluetooth and infrared wireless technologies, the Zodiac can also be used in conjunction with a compatible mobile phone with data services to browse the Internet and manage email. The Zodiac can be operated in landscape or portrait mode, allowing Word documents, email or family pictures to be viewed in the orientation that best suits them. The Zodiac also features high-capacity rechargeable lithium batteries for extended use, a touch-screen for direct interaction and text input, and the first ever analog controller with 360 degree of motion in a handheld product.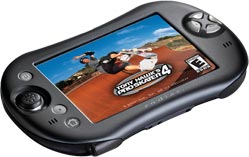 While the powerful Freescale ARM9 processor and integrated ATI graphics accelerator are the same in both models, the Zodiac 1 and Zodiac 2 come with 32MB and 128MB of memory respectively. Each can be expanded by slotting in SD cards in the handhelds two expansion ports, offering up to 2GB of additional storage.
In addition to the Zodiac multimedia handheld, consumers in these markets can also pick up the latest Zodiac accessories and popular Zodiac game cards. A few of the over 40 Tapwave Certified titles include: id Software's DOOM II, 3D Realms/MachineWorks Northwest's Duke Nukem Mobile, Activision's Tony Hawk's Pro Skater 4 and Midway's SpyHunter, Tiger Team: Apache vs Hind and GTS Racing Challenge. Along with premiere titles, Tapwave is also offering two game packs - Z:Pak: Adventure, which will include Galactic Realms and Legacy; and the Z:Pak: Fun featuring Paintball, MegaBowling and Kickoo's Breakout. Zodiac accessories available at retail will include the Zodiac Sport Case, Zodiac Cradle, a Zodiac Stylus 3-pack and the Zodiac Deluxe Leather Case.
Other announced games for the Zodiac platform include Madden NFL 2005 (Electronic Arts), Neverwinter Nights (Atari), Street Hoops (Activision), Motrax MTX (Activision), Tomb Raider (Eidos) and Hockey Rage 2005 (Fathammer).
Article Comments
(15 comments)
The following comments are owned by whoever posted them. PalmInfocenter is not responsible for them in any way.
Please Login or register here to add your comments.

Comments Closed
This article is no longer accepting new comments.