Tapwave Heading into European Markets
Wednesday, September 1, 2004 11:52:55 AM
Tapwave after seeing strong interest from distributors, customers and the game development community (over 40% of Tapwave's 3000 developers hail from Europe) has led the company to expand into Europe. Starting this holiday season, customers in the UK will be able to purchase and experience the Tapwave Zodiac handheld.
To accelerate expansion, Tapwave is now establishing a legal entity and local presence in the UK and recently hired Andrzej Kasprzyk as the company's Director of European Sales and Roy Parker as Director of International Operations. The company has also retained the services of UK-based PR and Marketing group Barrington Harvey, Herts and will help promote the Zodiac throughout Europe. Tapwave will also start participating in appropriate European events. This week they secured space at EGN (Waterfront Room, Room 17) and ECTS (Exhibit Area, Room 4318). Later in September, Tapwave will be a premiere sponsor of the PalmSource European Developer Conference in Munich.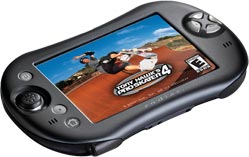 "Right out of the gate, European interest in the Zodiac has been strong, from consumers and media to distributors and developers," said Byron Connell, co-founder of Tapwave. "The company is now ready to unveil our multimedia console in other markets, starting in the UK and then expanding from there. We are looking forward to starting a relationship with consumers and distributors worldwide."
Beyond being able to purchase the Tapwave Zodiac, consumers will also be able to pick up the latest Zodiac accessories and popular Zodiac game cards, such as id Software's DOOM II, 3D Realms/MachineWorks Northwest's Duke Nukem Mobile, Activision's Tony Hawk's Pro Skater 4 and Midway's SpyHunter. Along with premiere titles, Tapwave is also offering two game packs -- Z:Pak: Adventure, which will include Galactic Realms and Legacy; and the Z:Pak: Fun featuring Paintball, MegaBowling and Kickoo's Breakout. Some of the other Zodiac premiere titles for this year will also include Activision's MTX: Mototrax and Street Hoops, Eidos' Tomb Raider and Atari's Neverwinter Nights. Zodiac accessories available at retail will include the Zodiac Sport Case, Zodiac Cradle, a Zodiac Stylus 3-pack and the Zodiac Deluxe Leather Case.
Article Comments
(25 comments)
The following comments are owned by whoever posted them. PalmInfocenter is not responsible for them in any way.
Please Login or register here to add your comments.

Comments Closed
This article is no longer accepting new comments.