Palm Shares Get a Double Dose of Downgrades
Wednesday, November 5, 2008 8:46:21 AM

Barron's Tech Trader Daily is reporting on a number of analyst downgrades and gloomy forecast notes for Palm Inc. today. Analysts from Avian and Morgan Keegan have downgraded Palm stock mainly on account of slowing sales and uncertainty surrounding the long planned turnaround and new operating system.
In addition, C.L. King analyst Lawrence Harris writes that it is "increasingly unlikely" that the Treo Pro will be offered by AT&T in time for the holiday shopping season, and that the same is true for the Treo 800w at Verizon. He also says sales of the Centro are continuing to slow at Sprint.
Avian analyst Matthew Thornton says "smartphone units and sales are likely to come in below expectations for the next several quarters." He also thinks the situation will put more pressure on the new Palm OS products to meet or exceed expectations in fiscal 2010. His price target has been lowered to $5 from $9.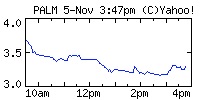 Morgan Keegan's Tavis McCourt thinks there is a slight, but increasing risk that Palm will need more capital to execute its turnaround strategy. He is still optimistic that Palm can dramatically improve its situation with the launch of the new platform, but also points to recent evidence (.pdf link) that Palm may be planning to raise additional capital.
At the time of publication Palm's stock was trading at 3.40, down -0.60 (-15.00%) on the day so far. Volume is nearly double the usual 3 month average with over 5 hours remaining until the market closes. Palm's shares are down about 37 percent in the year to date.
UPDATE:
11/05/08 13:25 PDT - Palm shares closed at 3.27 down 0.73 (-18.25%) on the day.
Article Comments
(35 comments)
The following comments are owned by whoever posted them. PalmInfocenter is not responsible for them in any way.
Please Login or register here to add your comments.