Hands-Free Phone Driving Law in California
Monday, June 30, 2008 1:58:56 PM

On July 1st, California will be joining Connecticut, Illinois, Nebraska, New Jersey, New York, Oregon, Washington State and Washington D.C, by implementing a hands-free requirement while operating a motor vehicle. The new law prohibits the use and handling of mobile phones while driving. Talking while using hands-free devices, such as Bluetooth headsets, will still be allowed for those over the age of 18.
On Sept.15, 2006 Governor Schwarzenegger signed California Senate Bill 1613 by Senator Joseph Simitian (D-Palo Alto), which prohibits drivers from using hand-held cell phones on California's roadways beginning July 1, 2008.
Law enforcement officers will be able to pull drivers over for using handheld wireless phones. The fines are $20 for the first offense and $50 for subsequent convictions, regardless of age. Drivers are still allowed to make emergency phone calls without using a hands-free device.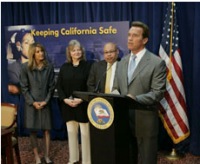 A recent survey shows that 80 percent of mobile phone owners talk on the phone while driving and 40 percent between the ages of 16 and 40 compose and send text messages while driving. There are approximately 115 road fatalities in the U.S each day alone and distracted driving causes 80 percent of those accidents, according to the National Highway Transportation Safety Administration. According to a study released May 12, 2008 from the Public Policy Institute of California, California's hands-free cell phone law could save an estimated 300 lives a year.
Palm Treo and Centro smartphones fully support hands-free use. They are equipped with speaker phones and are compatible with a number of hands-free accessories, including Bluetooth headsets, earpieces and various car kits. You can browse the selection at the PalmInfocenter Accessory store or view the selection at Palm.com.
Article Comments
(18 comments)
The following comments are owned by whoever posted them. PalmInfocenter is not responsible for them in any way.
Please Login or register here to add your comments.