palmOne Posts Treo 650 & LifeDrive Updates
Thursday, June 16, 2005 6:22:52 PM
palmOne today posted three new software updates for the Treo 650. The unlocked GSM Treo 650 gets NVFS fixes and other updates and the Sprint version includes new Bluetooth Dial Up networking as well as other updates. Roger's Canada has also released the 1.13 update. In addition, LifeDrive Update 1.0 was released by palmOne support as well as a new version of PhoneLink.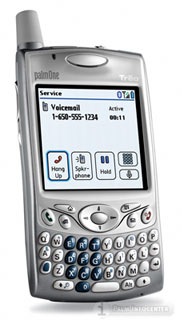 Sprint Treo 650 Updater 1.12
The Sprint v1.12 update provides improvements in several areas including:
Enables Bluetooth Dial-Up Networking (DUN) – allows a Treo 650 to act as a modem when paired with a Bluetooth enabled laptop. (Use of this functionality requires the selection of an appropriate pricing plan from Sprint.)
Adds support for more Bluetooth carkits including Acura, BMW, Chrysler and Toyota Prius (see all compatible car kits )
Reduces post-dial delay before a call is connected
Provides additional ways to send a SMS message from the Missed Call Alert or Call Log
Updates VersaMail to version 3.1 to enhance stability and add improvements
Unlocked GSM Treo 650 Updater 1.13
The Unlocked GSM software v1.13 update provides improvements in several areas including:
Improved memory management -- includes non-volatile file system (NVFS) improvements that optimize memory handling and free up more memory. palmOne implemented a NVFS system in the new Treo 650 because of the strong benefits it provides: preserving data and applications if the battery runs down, and the ability to change the battery on the fly. In the original implementation, NVFS stored each record in 512 byte blocks.

This software update reduces the overhead of storing database records in the file system. It does so by compacting more than one record into a single 512 byte block. In effect, each 512 block is divided into 16 32 byte subblocks, which allows small and large records to be stored more efficiently.

Overall voice quality improvements and enhanced call clarity
Updates VersaMail to enhance stability and add improvements
Latest carrier settings files
Rogers Treo 650 Update 1.13
Rogers Canada has also posted the v1.13 release on their website.
LifeDrive Update 1.0
The LifeDrive Update 1.0 is a small patch that fixes intermittent connectivity issues with these Wi-Fi routers:
Linksys WRT54G Wireless-G Broadband Router
Belkin High-Speed Mode Wireless G Router
Article Comments
(37 comments)
The following comments are owned by whoever posted them. PalmInfocenter is not responsible for them in any way.
Please Login or register here to add your comments.