Rumor: More Evidence for the Tungsten X and Zire 22
Monday, September 19, 2005 12:35:59 PM
New evidence has been posted regarding the Palm Tungsten X and Zire 22. Signs of the new devices were found within the recently pulled release of the Palm Desktop v4.2.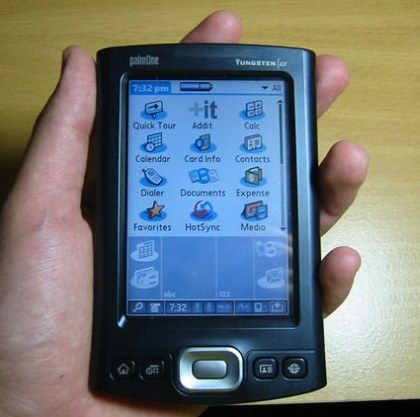 According to a posting at Tamspalm, there are references to the Tungsten X and Zire 22 within the Palm Desktop v4.2 for Windows. Shortly after Palm released the Palm Desktop update it was pulled and rereleased as the Palm Desktop v4.1.4E.
According to Tamspalm, the release contained two files: TX.html and Z22.html. These files contained information on how to locate the reset pin for the two devices and includes images of the backsides of the two models.
Tungsten X
The Tungsten X will run Palm OS Garnet v5.4.9. It will have a 312MHz XScale processor, a 320x480 pixel display, 128MB of non-volitile memory, 802.11b WiFi, Bluetooth 1.2 and an SDIO expansion slot. It will have a $299 USD MSRP.
PalmInfocenter's source claims the Tungsten X may come with a digital camera. It is possible that Palm will release a version without a camera as well.
Zire 22
The Zire 22 will have a 160x160 pixel color screen, 32MB of RAM and no SD slot. It will retail for $99. This will be the first color handheld released under the $100 mark.
The rumored release date for both devices is October 11th.
Article Comments
(59 comments)
The following comments are owned by whoever posted them. PalmInfocenter is not responsible for them in any way.
Please Login or register here to add your comments.

Only the first 50 comments are displayed within the article.
Click here for the full story discussion page...