More Details on the ACCESS Linux Platform
Friday, February 17, 2006 1:37:45 AM
PalmInfocenter had a chance to speak with Albert Chu, VP of Business Development at PalmSource who provided some additional details about the newly announced ACCESS Linux Platform. Read on for the full article.
The ACCESS Linux Platform is the next mobile software platform from PalmSource. It has its roots in the Palm OS for Linux project. ALP is a combination of a number of technologies including Palm OS for Linux, Palm OS Cobalt, the NetFront Browser and a number of open source projects.
Linux is the core of the new platform and ALP is based on the version 2.6.12 of the Linux kernel. ALP contains a large number of programming options for developers. There are four main options available:
MAX Applications (the native ALP interface)
Palm OS Emulation layer
GTK+ (native linux like environment)
J2ME (Java Virtual Machine)
Before you get used to saying the ACCESS Linux program or ALP, keep in mind this is not the final name of the operating system. ALP and MAX are both still working code names for the platform.
MAX
The main new user interface is the MAX application framework. It is said to preserve the "zen of palm" intuitive and easy to use user experience. It will support both traditional one handed phone operation (with a 5-way navigator and two dedicated soft keys) and touch-screen and stylus based systems. MAX will finally bring multitasking and concurrent applications to the Palm OS faithful. It fully supports multiple applications and background tasks.
All of the pre-installed ALP applications will use MAX. This includes updated "more modern" versions of the PalmSource PIM suite, multimedia and messaging applications. MAX is the main preferred developer framework that PalmSource wants developers to take advantage of.
Palm OS Emulation
ALP has been designed to ensure that properly written Palm OS 68K applications will run unchanged. PalmSource wants to give current Palm OS developers and easy route to ALP and backwards compatibility with the vast Palm OS library is a no brainer. PalmSource states that "well behaved" Palm OS applications will operate fine under the emulation layer without any modification.
GTK+
Developers will also be able to write native Linux applications using GTK+ and GStreamer libraries. Both are open source components widely used by many existing Linux applications. Other major open source components include SQLite, a high-performance database engine, and BlueZ, which will provide a Bluetooth 2.0 compliant software stack. PalmSource will be providing development tools to enable third party Linux apps and services to be easily ported and created on ALP.
PalmSource is also including Java J2ME compatibility, which is widely used in many of today's feature phones by manufacturers.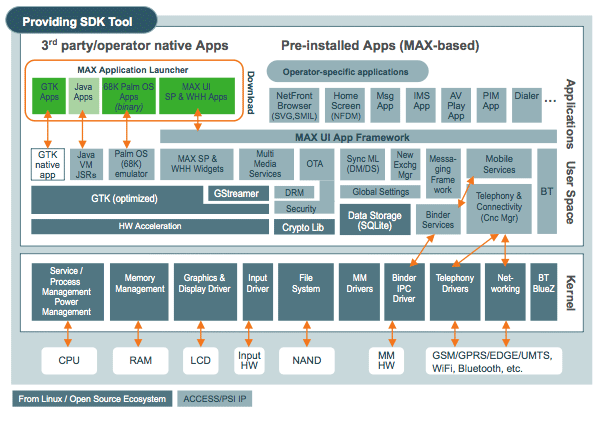 ALP will feature a new application launcher that will include each type of application. The launcher will be MAX based, but will give a common uniform interface for launching each type of application regardless of the type of program. ALP will also feature keyboard and handwriting recognition, though I could not get a confirmation on whether it will use Graffiti or not.
The platform will also include the NetFront web browser from ACCESS. NetFront 3.4 will include support for RSS, AJAX technologies and new plug-ins that will allow the browser to display PDF Files, office documents and videos.
The ACCESS Linux Platform will have a application signature and verification system, though by itself ALP will support open applications. It will be up to the operator or device manufacturer whether to enforce or require signed applications.
PalmSource has been working together with ACCESS on ALP for the past three months. The work is being done as a team effort by all of PalmSource's different branches along with ACCESS. Most of the UI work is being done in Sunnyvale, CMS in Nanjing is doing a lot of kernel and application work and PalmSource's French office in Montpelier is concentrating on the communications development.
PalmSource also plans to contribute more technologies to the open source community. It has already released OpenBinder, a component object framework for mobile devices. OpenBinder was developed for Palm OS Cobalt and was originally acquired from the Be OS purchase. PalmSource is also an active member of the mobile Linux community and is heavily involved with groups such as the OSDL (Open Source Development Labs) and LIPS (Linux Phone Standards Forum).
Before the acquisition, PalmSource had announced that they were working on two different branches of Palm OS for Linux. There was going to be a high end version for smartphones and a separate build optimized for feature phones. These plans have been dropped and regrouped around ALP, which will only come in one general version. Operators and device manufacturers will have the flexibility to incorporate or specify what features they want to include in devices. ChinaMobileSoft still sells a version of mLinux in China that powers many lower end feature phones there, but PalmSource has no plans to globalize that product.
PalmSource pledged they will continue to provide support for Palm OS Garnet as long as their is a customer need for it. However, no further work is being done around Garnet by PalmSource.
Mr. Chu said he expects devices running ALP to reach the market sometime in 2007. PalmSource's official release says they expect to make the ALP software developer kit available by the end of 2006. This SDK will be for top licensees and software developers to being work on ALP products. A product developer kit or PDK will be following shortly after for all licensees.
Article Comments
(167 comments)
The following comments are owned by whoever posted them. PalmInfocenter is not responsible for them in any way.
Please Login or register here to add your comments.

Only the first 50 comments are displayed within the article.
Click here for the full story discussion page...