Setting the Treo Record Straight
Friday, September 21, 2007 10:09:53 AM
The Treonauts blog has an interesting new editorial entitled "Setting the Treo Record Straight" that summarizes how Palm's current lineup of Treo and Centro smartphones stack up against competing devices from various manufacturers.
While a obviously taking a sympathetic view to the various problems facing the beleaguered Palm today, Andrew nevertheless presents a compelling reminder of the elegance and ease of use found in the dated Palm OS. In many instances, the article reminds us, the competition has still yet to match Palm's "special sauce". Andrew offers up the full slew of current and forthcoming Palm smartphones (500, 680, 700w/wx/p, 750, 755p, Centro) running both Windows Mobile and Palm OS against various devices from other manufacturers equipped with varying hardware specifications and OSes.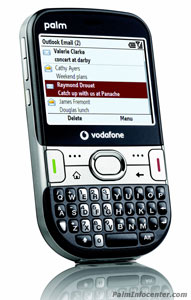 The editorial goes on to break down the current smartphone market into six basic formfactor types and five mobile operating systems. The upcoming Palm Centro, Palm's first smartphone product clearly targeted at the "youth" market, is predicted to be a sure-fire success if its build quality is comparable to the Treo 500 and the Centro's price tag remains at the expected $99 level.
Andrew clearly mentions the pros and cons of the traditional Treo 600-derived formfactor and claims of the traditional design: "Treo delivers the simplest, fastest and most intuitive smartphone experience".  Following this quote is a quick list of "must have" features to be incorporated into a future Linux-based variant of Palm OS. He also proposes that since Palm currently fields offerings in three of the current six categories of smartphone formfactors, three additional Palm devices are forthcoming and should feature sliding or mini/T9 keyboards in addition to keyboard-free designs similar to the iPhone. Two novel mockup designs are depicted further down the page of theoretical Treo "980" and "980s" devices incorporating recent styling cues found in the Treo 500.
The piece concludes with a well-deserved lambasting of Verizon Wireless' lackluster Palm offerings of late, as the CDMA giant has not only fared worse than CDMA partner Sprint in the 700p Maintenance Release follies but has not launched a new Palm device of either OS since February 2007's mildly updated Treo 700wx.
This piece provides an easily digestible overview of the current smartphone market and makes for a good read for new or prospective PDA phone owners. At the very least, this latest Treonauts editorial is certain to rekindle the heated debate amongst the legions of users as to which device offers the most compelling set of positive attributes and offers the user a pleasurable, intuitive mobile computing experience.
Article Comments
(18 comments)
The following comments are owned by whoever posted them. PalmInfocenter is not responsible for them in any way.
Please Login or register here to add your comments.