Palm Centro Smartphone Due This Fall
Thursday, August 16, 2007 5:46:18 PM

At a Tech Summit in Reston, Virginia today, Sprint gave a sneak preview of some new phones coming to its network this fall. Among the new devices included a new smartphone from Palm presented as the Palm Centro.
PalmInfocenter has confirmed at this time that the Centro is a new Palm OS smartphone that will include EVDO high speed data in a new form-factor. Read on for the rest of the details we know so far...
UPDATE:
The Palm Centro has been released by Palm. You can read our Palm Centro review here.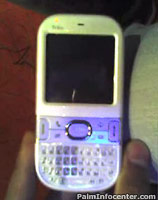 The Palm Centro will debut on Sprint sometime this fall. Palm says it is the smallest Palm OS smartphone to date and that it will run on Sprints EVDO network. It features a new design targeting a younger demographic and people new to the smartphone space. It will also include a full keyboard and a touch-screen.
The news comes to PalmInfocenter via Palm's Public Relations manager, Paul Loeffler. Paul provided the main points above that we disclosed at the conference, however he stated that Palm is not providing photos, availability information or any other details on the Centro at this time. Paul also states that there is a "bigger story" behind the Centro which will be revealed closer to the product release date. The information above was disclosed to a select group of Sprint executives, as well as a small number of press and market analysts.
Numerous new Palm smartphone designs have been recently leaked in the past couple months. Among them has been a new design that has been spotted running a number of different operating systems and configurations.
Centro resources:
Centro Review - Centro Accessories - Centro Software
Article Comments
(54 comments)
The following comments are owned by whoever posted them. PalmInfocenter is not responsible for them in any way.
Please Login or register here to add your comments.

Only the first 50 comments are displayed within the article.
Click here for the full story discussion page...