Treo 700p Spotted, Likely May/June Release
Tuesday, March 7, 2006 9:08:41 AM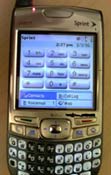 Rumor: A PalmInfocenter reader wrote in with an interesting find on the Treo 700p during a recent visit to a Sprint retail store. He asked around about the new Treo and was shown details on Treo 700p in Sprint's computer system.
So the story is our source visited a Sprint store this past Saturday. He asked their lead tech if he knew anything about the release of the Treo 700p. The tech pulled up a webpage from Sprint that not only had the Sprint part number for the 700p but also had a "May/June" release date indicated, which he let him see for himself.
Previous leaked details about the Treo 700p indicate it will run Palm OS Garnet v5.4.9. It features EVDO high speed data support, a 320x320 pixel display, 1.3 megapixel camera with a 1280x1024 max image resolution and 62.8 MB of free RAM.
UPDATE: The Palm Treo 700p has been officially announced. Read the Treo 700p review.
Related article: Must Have Treo Freeware Applications
Article Comments
(47 comments)
The following comments are owned by whoever posted them. PalmInfocenter is not responsible for them in any way.
Please Login or register here to add your comments.