Sandisk Announces 4GB SDHC Ultra II Plus card
Tuesday, September 04, 2007 10:47:09 AM
For users unwilling to pay the price premium for the flashy and slightly faster Ducati edition we reported on back in July, Sandisk has just announced the release of a "standard" Ultra II version of their 4GB SDHC Plus card.
Sandisk's MSRP of the new Ultra II SDHC Plus card is expected to be $79.99, with general availability occurring in October. This is not only more affordable buy than the $129.99 Ducati version of this card, but also a wiser purchase as well. No current Palm device can approach the full speed of even a class 2 SDHC card, so the Ducati card's higher speed rating would only be realized when copying and writing files to a PC or perhaps during HD video capture camera operations.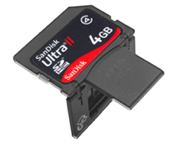 While rated approximately one-half the speed of the previously announced Ducati cards, these cheaper Ultra II cards still offer read & write speeds of approximately 10 MB/s, far in excess of the Class 4 4 MB/s rating for HC spec of the format that appears on the card's label.
This Ultra II card is certain to be of interest to users of the Treo 680, and 1.10 versions of the 700p, as both of those Treos have full-size SDHC-compatible card slots. In addition, Palm's upcoming Foleo Mobile Companion is reported to have a full-size SDHC slot as well.
Article Comments
(9 comments)
The following comments are owned by whoever posted them. PalmInfocenter is not responsible for them in any way.
Please Login or register here to add your comments.