No New Palm Handhelds This Spring?
Friday, May 12, 2006 12:19:24 PM
Rumor According to a recent report released by Gartner market research group, Palm Inc. has no plans to release any new conventional PDAs or handheld devices for "several months". This would be a deviation from Palm's traditional Spring/Fall new handheld release strategy.
Gartner claims that Palm is seeking to stagger future new releases with longer intervals between launches stating; "We think it could be several more months before new or upgraded models are launched."
Palm's Traditional Release Schedule
With few exceptions (i705 in Jan '02, T|T2 in July '03, LifeDrive in May '05, Treo 700w in Jan '06) Palm has traditionally released new devices in the April & October timeframes.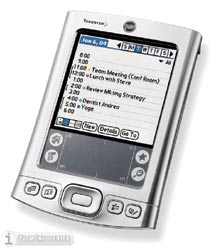 With their transition into a smartphone-focused company Palm could be looking to alter their long-standing, rather conservative launch schedule.
The lack of any new Palm OS handheld news thus far can also be attributed to the general downturn and lack of growth in that segment. Handheld sales growth has remained mostly flat since 2002, while Treo smartphone sales have enjoyed increasingly higher sales and popularity.
Models Likely to be Replaced or Upgraded?
Palm is still offering three units with the old "PalmOne" branding--the Treo 650 (released Oct '04), the Tungsten E2 (released April '05) and the LifeDrive (released May '05). Looking at Palm's current lineup, these legacy models will likely be dropped or replaced in the near term. One major reason is simply to get all of the company's products to carry uniform branding & packaging.
Ed Colligan, Palm's CEO, has previously claimed that new Treos running both Palm OS and Windows Mobile will be released this year.
The Tungsten E2 would be the most logical candidate for updating due to the success of the original Tungsten E and its position as a solid PDA at the $200 price point.
The LifeDrive has been long rumored to be receiving a 6 or 8gb MicroDrive but with the arrival of low-cost, high capacity SD cards, Palm could be questioning the need to maintain the LifeDrive within the lineup.
The two Palm PDA models bearing updated "Palm" branding (Palm TX & Z22) are less than a year old and are likely going to stick around for the foreseeable future.
Article Comments
(27 comments)
The following comments are owned by whoever posted them. PalmInfocenter is not responsible for them in any way.
Please Login or register here to add your comments.