Palm 3Q Earnings Call Highlights
Thursday, March 23, 2006 4:49:32 PM
Palm held their fiscal third quarter conference call today with analysts and shareholders. Palm's CEO Ed Colligan gave investors an update on Palm Inc's performance during the past quarter and presented his thoughts on the growth of Treo smartphones. He laid out a lot of interesting statistics on smartphone sales, and briefly talked about the upcoming new treo phones due out this year. Read on for the full report.
The conference call started off with Palm CEO Ed Colligan talking about the results of this latest quarter. He feels that Palm Inc executed very well. He mentions that this was Palm 9th consecutive quarter of year over year revenue growth.
He then went over Palm's five corporate objectives:
Deliver consistent, profitable growth
Invest in and strengthen our product engine
Sharpen our attention on the customer experience
Expand geographically
Collaborate with partners to reach new markets
Colligan went on to state that overall Treo sell-through was a record 569,000 units, up 102% year-over-year, and 756,000 handhelds shipped. Interest in both the Treo 650 and Treo 700w remains high. The Treo 650 is now offered on over 70 carriers worldwide and some carriers even ran low on treo inventory during the quarter.
Smartphone shipments in the US grew by 111%. The Treo now has 30% of the US smartphone market share according to Canalys vs 22% a year ago. Revenue for this quarter was 74% from treo's and 26% from handhelds, reflecting the growth and higher average selling price of smartphones.
Treo 700w demand was strong and the company says that 90% of 700w customers knew they wanted a Treo smartphone and 50% of them were new, first-time smartphone buyers. He also stated that 29% of registered 650 customers switched carriers just to get a Treo 650.
Colligan reiterated that we are still in the early stages of the migration to smartphones. He feels mobile users will eventually look to do more with their current 12-key feature phone based mobile devices and will "naturally evolve" to smartphones. He also mentions that only 2% of business email today is accessed wirelessly. He also talked about Palm's new stagey to drive growth in the European market. Palm is now investing much more in Treo R&D, and the new smartphone development center in Dublin is working on new treo software development.
New Treo smartphones
Ed again confirmed that Palm plans to announce three additional smartphones this calendar year. He said that there are both new Palm OS and Windows Mobile products on the roadmap. These new units will feature a combination of operating system choices, different hardware designs, wireless radios and price points. Rumors about upcoming treo code names Hollywood and Lowrider first leaked last November.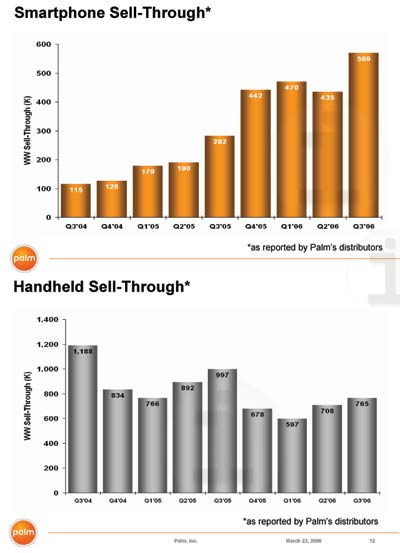 Treo 700w Patch Coming
Colligan also promised that a system update is being developed for the Treo 700w. This update will introduce the Exchange direct Push email capability, new global address lookup and a "kill pill" ability for wireless data security for IT management.
He also stated that the Palm OS BlackBerry connect email software is completed and is currently pending carrier certification.
Financials
The call was then turned over to the financial side, and Palm CFO Andrew Brown went over the numbers for the quarter. Overall revenue was $388.5 million, a 36% increase from the same period last year. Cash flow from Operations was $91.2 million.
He said that smartphone demand remains strong and there was a increase in both the sell-trough and gross margin. GAAP EPS was .28c per share, EPDS was .19c. Guidance for the 4th Quarter is $400 - $500m revenue and 33.5% to 33.7% gross margin.
When asked if he expected a rise in the handheld sales for the next quarter, Mr. Brown responded that he expects sales to remain flat. This may indicate that we may not see any new PDAs this spring, as this upcoming quarter is traditionally the time that Palm introduces new handheld models. He also stated that the handheld side of the business was still profitable even with flat sales growth.
In the Q&A session Ed Colligan confirmed a rumor that longtime Palm Executive Ken Wirt has left the company. Ed stated that Palm is currently recruiting for a new product marketing manager. He also declined to speculate on any unannounced products, rumors or on the possibility of competing with an Apple smartphone.
Article Comments
(78 comments)
The following comments are owned by whoever posted them. PalmInfocenter is not responsible for them in any way.
Please Login or register here to add your comments.

Only the first 50 comments are displayed within the article.
Click here for the full story discussion page...