Verizon Announces Treo 700p Plans
Tuesday, May 23, 2006 10:42:05 AM
Verizon Wireless and Palm, have officially announced the Palm Treo 700p smartphone is available online today and will be available in Verizon Wireless Communications retail stores on June 1st. It will be priced at $399.99 with a two-year customer agreement. The Treo 700p smartphone includes hardware and software innovations centered around usability, connectivity, multimedia and compatibility, designed to take advantage of the fast EV-DO data speeds of Verizon Wireless' BroadbandAccess service.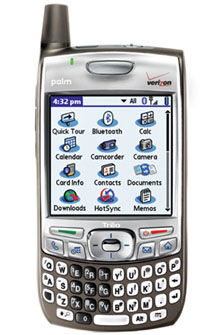 The Palm Treo 700p from Verizon Wireless offers the following features that help businesses and mobile professionals increase productivity:
Support for Wireless Sync to provide the convenience of push e-mail and easy access to personal information-management tools, such as contacts and calendar, as well as enterprise tools, such as device management and file synchronization;
Enough memory to manage business and personal digital needs in one place with 128MB of memory 60MB of dedicated user storage;
A 312MHz Intel XScale technology-based processor;
A 1.3-megapixel camera and camcorder, offering four times the resolution of a VGA camera;
Exceptional phone functionality, including personalized ring tones for various categories of callers and the ability to respond to a call with text messaging;
New voice-memo application, which can be used to create custom ring tones, add voice annotations to photos or simply record a memo;
Enhanced e-mail and messaging capabilities, including better Microsoft Exchange Server 2003 ActiveSync support, which now includes contact sync in addition to e-mail and calendar, as well as threaded SMS/MMS messages in a single chat view and out-of-the-box support for Yahoo!, AOL, and Gmail;
Smarter, faster Web browsing using a new and improved version of the award-winning Blazer browser;
Full PDF support using DataViz Documents To Go Version 8.0, which also offers native support for Microsoft Word, Excel and PowerPoint; and
The fast, friendly and familiar Palm OS platform, Version 5.4.9.
Verizon Wireless customers with the Palm Treo 700p can take advantage of the nation's most reliable wireless network when placing calls on the Verizon Wireless network, calls are more likely to go through than on any other wireless network. Customers will be able to purchase the Treo 700p online at www.verizonwireless.com for $399.99 after $100 instant credit when purchased with a qualified Verizon Wireless voice and data plan and two-year customer agreement. The Treo 700p will be available through Verizon Wireless Communications Stores in June.
"The Treo smartphone continues to reach new customers and markets, and now only Verizon Wireless customers have a choice of both Palm OS and Windows Mobile Treo smartphones," said John Hartnett, senior vice president of worldwide sales and customer relations for Palm. "The Treo 700p smartphone illustrates Palm's commitment to the Palm OS, its loyal customers and developers."
Customers can choose from three calling plans that include voice calling and unlimited data access via Verizon Wireless' BroadbandAccess service:
$79.99 monthly access includes 450 anytime minutes with unlimited data usage*, unlimited IN calling and unlimited nights and weekends ($0.45 per minute after allowance).
$109.99 monthly access includes 1,350 anytime minutes with unlimited data usage*, unlimited IN calling and unlimited nights and weekends ($0.35 per minute after allowance).
$169.99 monthly access includes 4,000 anytime minutes with unlimited data usage*, unlimited IN calling and unlimited nights and weekends ($0.25 per minute after allowance).

* Unlimited data usage for Internet browsing, e-mail and intranet access within the National Enhanced Services Rate & Coverage Area
In addition, customers interested in using their Palm Treo 700p as a modem to send and receive data from their laptops can do so using dial-up networking with Verizon Wireless' BroadbandAccess Connect service. Customers with the Treo 700p and an unlimited data plan with qualifying voice plan can get unlimited BroadbandAccess Connect for $15 monthly access fee, which for many is considerably less than signing up for Wi-Fi access at coffee shops, airports and hotels. Without the qualifying voice plan, customers can get BroadbandAccess Connect with an unlimited data plan for a $30 monthly access fee.
You can now order the Treo 700p and plans at the Palm.com store or at Verizon Wireless.
You can read PalmInfocenter's previe of the Treo 700p here.
Article Comments
(17 comments)
The following comments are owned by whoever posted them. PalmInfocenter is not responsible for them in any way.
Please Login or register here to add your comments.