Verizon Treo 755p Release in November?
Thursday, August 16, 2007 10:41:36 AM
Rumor: Verizon Wireless users who are anxiously awaiting the release of the Palm OS-based Treo 755p over competing RIM and Windows Mobile-based smart devices are going to have to wait a bit longer.
A very legitimate-looking Verizon release roadmap has been leaked and posted to the Phone Arena website. The roadmap reveals that the 755p's release date has slipped yet again to some unspecified point in November.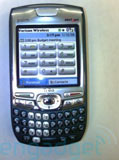 In addition to the 755p, the document shows a slew of smartphone and featurephone releases heading to Verizon in the remaining months of í07. Despite earlier rumors of a Treo 800w running Windows Mobile 6 Professional, there are no reports of any additional new Treos from Palm in the documents.
While Palmís newest CDMA Treo with EVDO Rev. 0 has been available to Sprint users since May, Verizonís version remains a no-show, with Verizonís Palm woes compounded by widespread unavailability of new 700p handsets and rampant reports of network disconnects (the infamous "Error 3000" bug) as seen in yesterdayís Palm blog update.
The Verizon 755p was initially rumored to be launched shortly after Sprintís version back in May but was then supposedly delayed until July 4th and then again until August 16th or sometime in September, depending on the source rumor.
The PalmInfocenter review of the Sprint version of the 755p can be found here.
Article Comments
(2 comments)
The following comments are owned by whoever posted them. PalmInfocenter is not responsible for them in any way.
Please Login or register here to add your comments.