Verizon Treo 700p MR Update Now Available
Thursday, July 12, 2007 6:05:58 PM
Palm has finally posted the long awaited Verizon Treo 700p maintenance release. Much like the earlier Sprint version of the update, both a Hotsync'd updater and a direct SD card executable are available. Windows Vista, Macintosh, and IT/enterprise users are encouraged to use the SD card update process. This new version brings the Verizon Treo 700p up to version 1.10.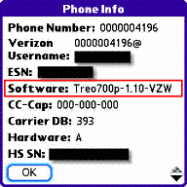 As before, Palm encourages using a fullsize SD card between 32mb and 2gb in size, so the use of MultiMedia cards as well as unofficial 4gb SD, SDHC, and miniSD or microSD cards in an adapter is not recommended.
The list of changes include:
Performance improvements to phone application
System improvements to minimize skipping during music playback and eliminate audio delays experienced on some games
Performance improvement to minimize delays experienced when loading Blazer browser
Support for new daylight savings time legislation, plus a simplified Date/Time preference panel
Increased expansion card support including 4GB SD cards and SDHC cards
Resolution of certain "wake up" issues that may occur with certain third party push email solutions
Improved handling of SMS messages to lessen stalling of messages.
For customers using Microsoft Exchange Server 2003 with SP 2 and above, an update to VersaMail client now includes an update to Microsoft Exchange ActiveSync which adds Microsoft's Direct Push Technology for push email, calendar and contacts. Also adding other EAS functionality such as remote wipe, policy support, and global address lookup
Bluetooth wireless technology enhancements:
Increases list of supported/compatible Bluetooth wireless carkits, including BMW and Toyota/Lexus (Denso)
Improves overall user experience with supported Bluetooth wireless carkits and headsets (e.g. allow user to manually connect / disconnect to a Bluetooth device)
Additional Bluetooth wireless functionality (e.g. audio routing to Bluetooth headset even when wired headset is plugged in)
Palm claims that the 700p's ROM update is not required for other carriers with the same device such as Alltel or Telus. This message comes despite persistent reports online from users of those smaller networks reporting the same bugs that have plagued Sprint and Verizon 700p owners for over a year.
Article Comments
(40 comments)
The following comments are owned by whoever posted them. PalmInfocenter is not responsible for them in any way.
Please Login or register here to add your comments.