Verizon Gets the Treo 700wx
Tuesday, February 20, 2007 9:33:56 AM
Verizon Wireless and Palm today announced the availability of the Palm Treo 700wx smartphone running Microsoft's Windows Mobile 5.0 with Direct Push Technology, adding another choice to Palm's current EV-DO product offerings for Verizon Wireless customers. The main difference with the Treo 700wx is that it ships with double the operating memory of its predecessor.
The Treo 700wx smartphone combines broadbandlike speeds on Verizon Wireless' high-speed network with wireless email and rich media capabilities all in one – bringing Palm's world-class ease of use to the Windows Mobile platform. The Treo 700wx has a full QWERTY keyboard for easy messaging, a 1.3-megapixel camera, a bright 240x240 touch screen and support for Bluetooth stereo headsets. The built-in 64MB of RAM allows the use of a more robust set of applications, while storage can be enhanced by using the SD slot to add memory cards.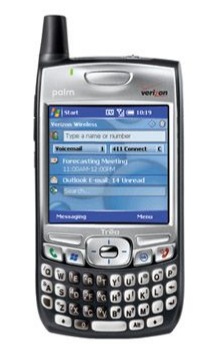 Verizon Wireless customers using the Treo 700wx have the benefit of Verizon Wireless' BroadbandAccess service to send and receive data. Today, Verizon Wireless' broadband network covers more than 200 million Americans in 242 major metropolitan areas and 180 major airports from coast to coast and offers average download speeds of 400-700 kilobits per second.
"People love the Treo smartphone because they are driven by the need to stay in touch and manage a variety of communications and information – both business and personal," said Tim Roper, vice president, U.S. region, for Palm, Inc. "Palm's one-of-a-kind user experience and broad support of key applications and email solutions make the Treo 700wx a core asset for mobile professionals to stay productive and maximize their downtime while on the road."
With Windows Mobile 5.0, the Treo 700wx offers the tools mobile professionals need, including access to mobile versions of Windows Media Player 10, Internet Explorer, and Outlook applications in addition to the ability to view and edit Microsoft Word and Excel files and view PowerPoint and PDF files. The Messaging and Security Feature Pack (MSFP) is available out of the box with the Treo 700wx and includes Direct Push Technology, which gives Verizon Wireless customers connected to a Microsoft Exchange Server fast, automatic wireless updates of their email, calendar items, contacts and tasks. It provides added security features for IT administrators, such as over-the-air password policy enforcement and remote wipe for lost or stolen devices. MSFP also gives users over-the-air lookup of a company's Global Address List (GAL), providing employees with quick access to colleagues' email and contact information.
Support for Verizon Wireless' Wireless Sync service is also available, which provides the convenience of automatic delivery of email and easy access to personal information-management tools, such as contacts and calendar, as well as enterprise tools, such as device management and file synchronization.
The Palm Treo 700wx smartphone from Verizon Wireless is available now at Verizon Wireless Communications Stores, Verizon Wireless business channels and online for $399.99 after a $100 rebate and a new two-year customer agreement.
Article Comments
(14 comments)
The following comments are owned by whoever posted them. PalmInfocenter is not responsible for them in any way.
Please Login or register here to add your comments.