DataViz Documents To Go 9 Released
Wednesday, October 18, 2006 11:15:12 AM
Today DataViz announced Documents To Go 9 for the Palm OS platform. Documents To Go is a mobile office suite which allows users to create, view and edit Microsoft Word, Excel and PowerPoint files as well as view Adobe PDF files on a mobile device. Version 9 has a number of new enhancements with the most significant being the addition of InTact Technology which ensures that all file formatting is kept "intact" when editing and e-mailing office files on a handheld or smartphone. Other new features include: An integrated file explorer, a new user interface, updates to Word To Go, Sheet To Go and Slideshow To Go.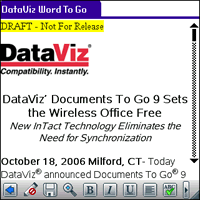 For years Documents To Go has utilized DocSync Technology to retain complex file formatting when editing files on a mobile device. This technology developed by DataViz, relies on a wired synchronization between the computer and mobile device in order to merge changes back into the original document on the desktop while retaining file formatting. With customer expectations growing and devices becoming more and more powerful, customers are now relying on their smartphones as standalone devices instead of companions to the desktop.
DataViz has replaced DocSync technology with InTact Technology in Documents To Go 9. Now files that are edited on the mobile device no longer have to rely on a wired synchronization with a desktop in order to maintain file integrity. Edited files on the mobile device can be emailed as attachments and still retain their complex file formatting including track changes, headers and footers, macros and animations.
The main Documents To Go office applications for the handheld have also been updated. The new enhancements include:
File Explorer – An integrated file explorer has been added to the main Documents application to make browsing for files on expansion cards and internal memory easier.
Word To Go – Support for viewing and editing footnotes, endnotes, comments and text boxes has been added. In addition, support for Table Of Contents has also been added.
Sheet To Go – Support for XY scatter plot charts, True Type fonts including varying type faces and font sizes and additional font formatting such as italic and underline has been added.
SlideShow To Go – New additions include support for native PowerPoint editing for both Macintosh and Windows users.
Documents To Go Premium Edition retails for $49.99. A 30 day free trial is available. Existing DTG customers who own an older version of the app or who have the Professional Edition on their Palm devices can upgrade for $29.99. Additionally, DTG Standard edition, which includes Word and Excel compatibility only, can be purchaed for $29.99 USD.
Documents to Go 9 supports the following Palm OS devices:
Treo 700p, Treo 680, Treo 650, Treo 600, LifeDrive, Palm TX, TC, E, E2, T3, T5, Zire 72, Z22, Zodiac 2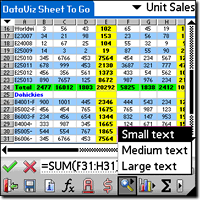 Several caveats do exist for owners of older Palm OS devices wit this new release, unfortunately. The following features & file formats are no longer supported:
Word 95, WordPerfect, WordPro, RTF, Palm DOC
Excel 95, Quattro Pro, Lotus 1-2-3
Word 6 (Mac), Appleworks, ClarisWorks, Excel 5
Word To Go, Sheet To Go and Slideshow To Go formats
Inbox To Go Sync
Windows 98 and Me
Margi Presenter-to-Go
Bookmarks in spreadsheets
In addition, devices no longer supported include:
Garmin iQue 3200, 3600, 3000
Palm Tungsten T, Zire 21, Zire 31, Zire 71
Sony NX80, NX60, NX70V, NX73V, NX80V, NZ90, TG50, TH55, TJ25, TJ27, TJ35, TJ37, UX40, UX50
Tapwave Zodiac 1
Microsoft 2007 Protection Program Discount
Dataviz is offering a special
pre-release price
to customers of the Documents To Go 9 suite. For $19.99, users can purchase an advance upgrade to the next version of DTG, slated for later in 2007, to ensure full support for Microsoft's new Office 2007 Word, Excel, and PowerPoint file formats and attachments.
Supposedly Office 2007's formatting changes will "break" compatability with previous versions of DTG which will necessitate the purchase of the latest version of DTG. Office 2007 is expected to be released in early 2007, shortly after the launch of Microsoft's new Vista OS.
Dataviz promises to automatically deiver this new version upon its 2007 release to all customers who elect to purchase this update now, claiming a 50% savings by purchasing the downloadable version of DTG in advance.
Article Comments
(33 comments)
The following comments are owned by whoever posted them. PalmInfocenter is not responsible for them in any way.
Please Login or register here to add your comments.