New Handsfree Palm GPS Kit Announced
Tuesday, March 27, 2007 10:46:12 AM
Palm has introduced another product in their rapidly-evolving personal GPS solutions lineup. Hot on the heels of last month's GPS Navigator Smartphpone Edition 3 bundle, Palm has announced a new GPS Navigator Car Kit for the Treo 680 and Treo 700p models.
This new GPS solution eschews Palm's previous usable-but-fiddly adjustable mounting bracket and separate Bluetooth GPS receiver in favor of a all-in-one solution with a GPS received integrated into a charging cradle with integrated speakerphone capabilities and improved charging capabilities. Given the sometimes unreliable nature of the Palm OS Garnet devices' Bluetooth stack, this hardwired GPS solution looks to offer a faster, more reliable navigation experience.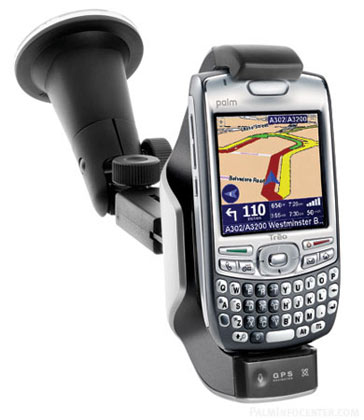 From a hardware standpoint, this new cradle looks to have the same "innards" as the previous Bluetooth receiver (see review here), so performance with the SiRFStar III chipset should be excellent. The speakerphone portion of the cradle features DSP sound processing for noise cancellation. No word if there is an additional audio-out port to route through existing car stereos or speakers or if the user must use the integrated speaker.
The standard freebies — a pre-loaded 1gb mini card with full size SD adapter with the superb TomTom 6 software and the USB card reader/writer — are still included in the box.
You can read our review of the previous Palm GPS bundle and I also reviewed the latest TomTom software with updated maps recently.
Palm has attached a reasonable $299.99 MSRP to the bundle, with projected retail availability around the third week of April 2007.
Two curiosities still remain in regards to this new bundle:
Palm mentions the Treo 680 and 700p as the only devices compatible with this new GPS kit. The Windows Mobile-powered Treo 700w/wx and flagship 750 are curiously absent. This is despite the fact that the 700w/wx/p enjoy shared formfactors. The 680 and 750 are similar designs as well. Previous versions of the Palm GPS Navigator line shipped with both Palm OS and Windows Mobile compatible versions of the TomTom software in the box. Perhaps Palm is planning a separate bundle with enhanced software exclusively for Windows Mobile-powered Treos or a Windows Mobile Treo with integrated GPS capabilities in the near future?
Like the GPS Navigator Smartphone Edition 3 package, Palm ships this bundle's included TomTom software on a 1gb miniSD card with a full-size SD adapter. Yet Palm currently offers no Palm OS-based Treos with miniSD slots. Furthermore, Palm's only current miniSD-enabled Treo is the WM 5/6-powered 750. This could be a sign of an upcoming but unannounced Palm OS-based Treo utilizing the Treo 750 formfactor.
Article Comments
(6 comments)
The following comments are owned by whoever posted them. PalmInfocenter is not responsible for them in any way.
Please Login or register here to add your comments.