M5_htm Computer Inspired by Hawkins Theories
Friday, April 27, 2007 10:15:49 AM
Tech Center Labs has released an interesting piece of freeware for the Palm OS. Inspired by Jeff Hawkins book ON INTELLIGENCE and the work they are doing at Numenta, M5_htm Computer is an interactive simulation of memory prediction framework for Palm OS devices 3.5 and above.
The Input and Output environment is a 16 X 16 grid to make it easy to share data with a cluster of Palms. The software "learns" sequences of what is happening in its environment a step at a time, the present prediction grid was caused by the previous 'cause' grid (which was the prediction of a previous grid). M-5 can learn many memory sequences of various lengths and use a combination of them to interact with the environment.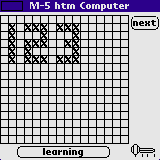 Gary from TCL says, "M5 is the beginning of a very simplistic overview of what I gathered from On Intelligence. It is a pattern machine, it stores pattern sequences and recalls the patterns relevant to its present environment, there is very little invariance in M5 but its not desirable in this small simulation. I wanted it to have more exact memories of the environment so it would be useful to some degree. There is a simple hierarchy used to create the vectors but additional levels could use the predictions of M5 as their inputs to learn sequences of sequences while running the same simple code. The fact that a little 150k program can do what it is doing makes me think Jeff has it right and that NuPICs capability will be astounding!"
Article Comments
(79 comments)
The following comments are owned by whoever posted them. PalmInfocenter is not responsible for them in any way.
Please Login or register here to add your comments.

Only the first 50 comments are displayed within the article.
Click here for the full story discussion page...