Missing Sync for Palm OS v6.0 Released
Thursday, June 7, 2007 11:42:32 AM
Mark/Space today announced the release of version 6.0 of The Missing Sync for Palm OS, the company's software that connects and synchronizes devices running the Palm operating system with Apple Mac OS X computers. This latest release introduces several new features, a number of which are designed specifically for users of Treo smartphones. New features include new Mac call log information and sms messages backup functionality, address book improvements, a new notebook application and new two-way video conversion and backup.
A new Call Log application and Palm conduit for Mac OS X in version 6.0 provide access to the Treo's log of phone call information on the Mac. Users can sort, filter, annotate and search through the list of incoming and outgoing calls and view call dates and durations. Integration with Apple's Address Book application provides additional information related to known contacts, including company name and contact photo, while a toolbar button expedites the process of creating a new contact in Address Book from Call Log data. An export function provides the ability to use Excel or a database application to further manipulate the data, as might be used by attorneys or other professionals who track and bill for their time.
A new SMS Log application and Palm conduit for Mac OS X provide similar access to the Treo's log of sent and received SMS text messages. Messages are grouped by contact and easily searched using Apple's Spotlight technology. The SMS Log also integrates with Apple's Address Book app to match information on known contacts. This feature not only provides a backup for often-critical communications from a Treo smartphone, but it also allows users to access that information with their Mac.
A new Video plugin imports movies taken with a Treo smartphone either directly into a selected album in iPhoto or into a defined folder on the Mac's hard drive. Now Treo users have an easy way of getting movies they have taken on-the-go with their Treo into iPhoto, where they are easily stored and playable with the Mac's QuickTime Player.
The new Video plugin uses Apple's QuickTime technology to encode DRM-free videos for playback on Treo smartphones or on other Palm OS devices with an MP4-compatible player. Once encoded, videos are queued for download to the device during the next sync operation. This feature makes it trivial to get video content onto Palm OS devices for mobile viewing, enhancing their multimedia capabilities.
The Missing Sync for Palm OS version 6.0 now includes Mark/Space Notebook, a Mac OS X application for creating, editing, sorting, categorizing, searching and storing notes. Mark/Space Notebook replaces the older Mark/Space MemoPad application that came with previous versions of The Missing Sync for Palm OS and unifies synchronization with multiple handheld platforms, including BlackBerry and Windows Mobile devices, via the appropriate Missing Sync application. Because Mark/Space Notebook uses Apple Sync Services, users can even synchronize notes across multiple Macs with Mark/Space's SyncTogether application or Apple's .Mac sync service.
In response to requests from users, the updated Mark/Space Notes conduit in version 6.0 provides increased flexibility by allowing users to choose to synchronize handheld notes with either Mark/Space Notebook (which is included for free), Microsoft Entourage 2004 or Bare Bones Software's Yojimbo.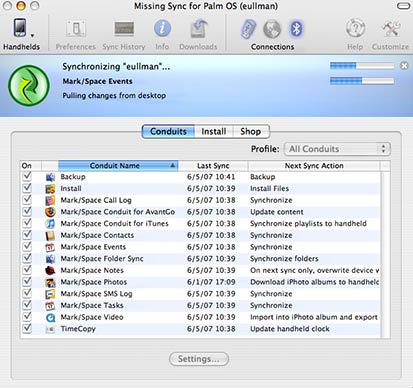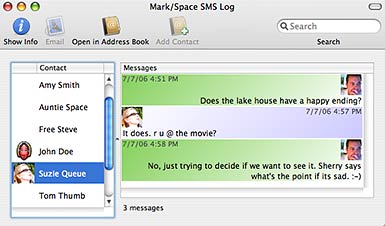 Pricing, Availability and System Requirements
The Missing Sync for Palm OS is available immediately as an electronic download from the Mark/Space Online Store for $39.95. A single installer includes English, French, German, Italian, Japanese and Spanish editions. CDs will be available in a few weeks for $49.95. Free upgrades to version 6.0 are available for anyone who purchased version 5.1 of The Missing Sync for Palm OS on or after May 1, 2007. Purchases prior to that date and purchases of certain other Missing Sync products qualify for a discounted upgrade to version 6.0 for only $24.95.
The Missing Sync for Palm OS requires Mac OS X 10.4.9 or later and a Palm OS device running either version 4 or 5 of the operating system.
Article Comments
(9 comments)
The following comments are owned by whoever posted them. PalmInfocenter is not responsible for them in any way.
Please Login or register here to add your comments.