Retail Report Volume 4: Palm Products Disappearing From Office Depot?
Thursday, November 8, 2007 11:10:33 AM
Office Depot has long been a staunch supporter of the full range of Palm PDAs and accessories. For a while, Office Depot even offered select Sony Clies alongside Palmís handheld lineup. While Office Depot has of course downsized their PDA offerings in recent years, they could always be counted on to offer at least a handful of the most popular Palm peripherals and usually-working display models of Palmís remaining handhelds.
Unfortunately, trips to two local Office Depot stores over the past week have revealed some information that another longtime stalwart retail partner may be giving up on Palmís aging and unspectacular lineup of products.
One of the Office Depot stores, opened just two years ago, just completed an extensive remodeling and reorganizing of the entire store. The remnants of the PDA display are a handful of Handmark software CDs and some recent-vintage Palm PDA accessories such as Tungsten E/E2 cases, Tungsten T & LifeDrive styli and a number of Z22 cases and styli. All of the peripherals were marked with florescent yellow clearance price tags and some of the Handmark offerings appear to have been received permanent price reductions. Prices for the clearance accessories ranged from $1.01 for a 3-pack of Z22 styli to $48 and change for a Palm Wireless IR Keyboard. A Tungsten T5/Palm TX cradle kit (see my review here) was also available for $35. No Treo-specific accessories were available save for the universal Athena/Multi-Connector AC adapter and car charger.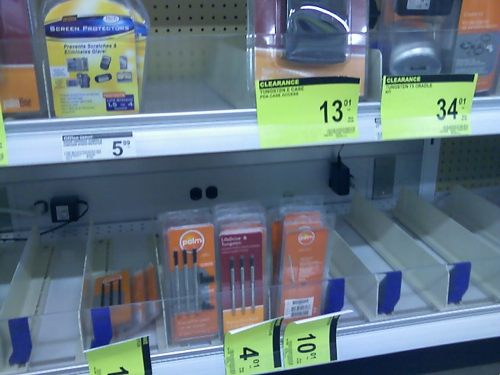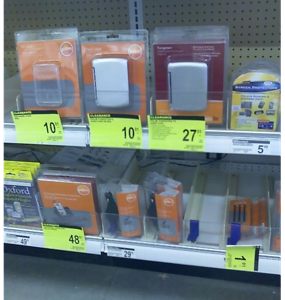 The entire PDA display was empty, having been replaced with GPS units and various flavors of MP3 and PMP units. No lingering Palm signage or literature remains and a sales clerk seemed blissfully unaware of any plans to reintroduce Palm products. The full range of Palmís remaining three handhelds as well all of the standard accessory offerings are still available for MSRP on OfficeDepot.com. Presumably, Palmís 11th-hour cancellation of the Foleo Mobile Manager was a drastic blow to the companyís plans to maintain a non-Treo presence outside of cellular carrier stores. Itís quite unfortunate (yet understandable) to see Office Depot distancing itself from Palm, as the office supply giant usually maintained a good stock of PDAs and accessories as well as better-than-average sales clerks and periodic PDA promotions with large mail-in rebate offers. These factors combined with their agreeable return policies and the Rewards cashback program made Office Depot a favored destination for eager PDA enthusiasts looking to grab the newest Palm model as soon as possible upon release. I awarded Office Depot a solid B+ during both of my previous retail roundup articles.
If Office Depot is indeed phasing out Palm handhelds, this leaves CompUSA (itself a victim of myriad store closings) and Staples as the primary nationwide brick and mortar retailers for Palm products. Best Buy is also maintaining a small but consistent Palm presence in the low-traffic area of their stores containing office supplies and calculators. Of course, Palmís airport/mall retail stores and kiosks offer nearly the entire line of Palm-branded products but these stores are few and far between in number.
Check out PICís previous retail roundup articles: the last one was volume 3, followed by Volume 2 and the first report from October 2006.
Article Comments
(19 comments)
The following comments are owned by whoever posted them. PalmInfocenter is not responsible for them in any way.
Please Login or register here to add your comments.