Treo 800w Spotted at Gates' CES Keynote?
Monday, January 7, 2008 10:21:50 AM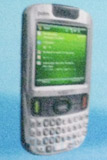 Bill Gates concluded his 12th and final CES keynote with a small tidbit that left Palm-watchers everywhere speculating about the existence of yet another new Windows Mobile Treo. Several sites, Engadget in particular, posted stills from Gates' slideshow imagery of Windows Mobile-based smartphones. A device clearly identifiable as the classic Treo formfactor was shown in white or possibly light silver with a square (likely 320x320) LCD running what presumably is the touchscreen-based WM 6.1 Professional. The device also appears to have a "smile" keyboard and the Centro/Z22/LifeDrive-esque "ring" 5-way navigator pad. It also has a section of dark grey plastic surrounding the earpiece, which is a styling cue not found on any current Treo or Centro.
While some have speculated that this is the mythical Treo 800w or 850v, codenamed "Drucker" we covered yesterday, that device's spec sheet listed it as having a flush touchscreen. The device depicted in Gates' presentation definitely has the conventional recessed touchscreen. I expect this to be the CDMA 800w device hinted at for several months now. Such a device has likely been in gestation longer than the "Drucker" and might not some of the Drucker's cutting-edge styling cues such as the flush screen.
Another possibility is that this is a lower-priced WM 6.x Professional-based device intended to replace the Treo 750 or, more likely, the ancient 700w/700wx. Such as device could omit the avant-garde styling cues of a flagship "Drucker" Treo and possibly remove GPS and/or wi-fi while still slotting in above the Treo 500v and its "Wanda" successor.
Not counting carryover models with a longer shelf life such as the 750 and 500v, Palm's WM-based lineup going into the fall of 2008 could conceivably contain four or more handsets:
The high-end flagship "Drucker" GSM Treo and its high-end CDMA equivalent, the mythical 800w.
A possible midrange CDMA (or CDMA & GSM) WM Professional Treo hinted at here to replace the 700wx and/or the 750 (if the device leaked by Bill Gates is not the 800w).
The low-end WM Standard Treo 500v replacement "Wanda".
Given the fact that the Treo 750's oft-delayed WM6 upgrade was previously revealed in a similar manner by Microsoft nearly a year ago, I think the chances of this being a production model are quite high.
Thanks to Dirk Meissner for the tip.
Article Comments
(8 comments)
The following comments are owned by whoever posted them. PalmInfocenter is not responsible for them in any way.
Please Login or register here to add your comments.