New webOS Device Release Date Speculation and Rumors
Wednesday, October 6, 2010 10:38:18 AM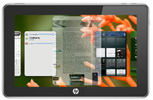 In what is already quite a long-winded saga, the wait for the first official WebOS products from the combined HP-Palm may not be coming until 2011, according to the latest round of reputable reports. A Reuters report this morning cited HP Senior Vice President Eric Cador and reported that no new WebOS phones would appear until "early 2011"..."You will see us coming early next year with new phones". Though light on additional details, this report appears to be the most credible sign yet that HP is biding their time and will ride out the remainder of 2010 with the current line of legacy Palm devices. 2011 will likely bring a three-pronged WebOS attack from HP with the apparent "PalmPad" tablet and a refreshed smartphone line, with WebOS-based printers also likely in tow. Presumably, Palm and HP will cede the 2010 holiday market to Apple and Google and use CES 2011 (coincidentally the two-year anniversary of the original WebOS and Pre announcement) to announce their next-generation products
Additionally, a CRN article published yesterday suggests that HP is leveraging its numerous channel partners to support a WebOS-based tablet in early 2011. The CRN piece also discusses HP's tablet aspirations in varied fields such as healthcare in addition to the usual enterprise and consumer sectors. The piece specifically mentions one HP solution provider being "pleased" with his preliminary hands-on time with a WebOS tablet.
The last bit if insight gleaned from the piece is a confirmation from Todd Bradley that there would be a consistent, unified UI between HP's phones and tablets running WebOS. With a number of WebOS 2.0 screenshots and videos popping up online in recent weeks, it's fairly safe to speculate that a WebOS tablet experience, even on a higher-resolution, physically larger screen shouldn't be too drastically different from that of a current WebOS 1.x smartphone.
However, other less-official sources are still maintaining that HP has some kind of new smartphone waiting in the wings for release during the remainder of 2010. Several reports courtesy of PreCentral.net from a leaked German TÜV certification listing indicated new Touchstone chargers and P101UNA and P102EWW handsets, suggesting a new smartphone in CDMA and GSM forms. The TÜV listing dated August 3rd 2010 was subsequently pulled, but a followup report suggests this device is a mildly spec-bumped Pre Plus coming to Verizon in October.
Then this past Monday, another subsequent PreCentral report is suggesting a new WebOS device codenamed "Mansion" would have an 800x480 screen and a virtual keyboard. If so, this would be the first-ever Palm smartphone to omit a physical keyboard and be the first Palm device to tout an onscreen keyboard since the Palm TX handheld in 2005. 800x480 is an widespread industry-standard resolution, being commonly found on nearly every high-end Android device and on most tablets and netbooks offering 7" and 8" screen sizes. Having a unified screen resolution between HP's WebOS smartphones and tablets would make for an cohesive UI experience, as well as assisting developers in easily porting Android applications to WebOS (and vice-versa).
Article Comments
(7 comments)
The following comments are owned by whoever posted them. PalmInfocenter is not responsible for them in any way.
Please Login or register here to add your comments.