How To Add MP3 Ringtones on Your Treo or Centro
Tuesday, January 22, 2008 10:00:39 AM

The recent Treo 680 firmware updates include a new option to use mp3 ringtones without any additional software. However, Palm provided no support or instructions on how to transfer or use mp3 ringtones on the device. Thanks to the Palmdoc, we have a new simple set of instructions to import mp3 ringtones to your Palm OS smartphone that supports the new ringtone options.
Read on for the instructions as well as a number of other options for using enhanced ringtones on your Treo or Centro.
Via the Palmdoc, here is a simple option for importing mp3 ringtones from an SD card:
Place the MP3s file you want to import in the Audio folder of your SD card.
In the Blazer web browser, type: file:///audio/xxx.mp3 where xxx is the name of your mp3 file. (Note the 3 forward slashes after the first file declaration.)
Hit GO.
Then you will be prompted and select Copy To Ringtone.
Then Hit Save and Open.
The MP3 Ringtone will now be added to your Ringtones which you can Manage from your Prefs/Sounds.
In addition to mp3's the latest Palm smartphones support a number of ringtone formats including: AAC, AAC+, MIDI, WAV, and AMR.
MiniTones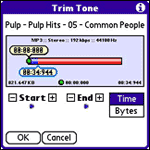 An alternate option is the nice bit of freeware called MiniTones. With Minitones you can take a full mp3 file stored on your device and select the exact time clip from a song you want to use and MiniTones will take care of the rest.
Another prehaps even simpler option is to create your rintone on your PC and transfer it to your Palm device via a Bluetooth file transfer. This option should accept the ringtone file and place it in the ringtone list as well.
Ringtone Managers
If you're looking for something more robust, the PalmInfocenter software store has a number of enhanced ringtone managers such as Ringo Pro, RingCare, Phone Technician and Call Block MP3 Ringtone Edition.
Article Comments
(20 comments)
The following comments are owned by whoever posted them. PalmInfocenter is not responsible for them in any way.
Please Login or register here to add your comments.