Palm Q1 FY09 Conference Call Highlights
Thursday, September 18, 2008 4:54:13 PM

Palm Inc. today announced their fifth consecutive quarterly loss today as the company continues its transformation efforts. The company reported a loss of $41.9 million on higher than expected revenues of $366.9 million. During the call Palm CEO Ed Colligan stressed that the company was "still solidly in the midst of its transformation with some significant hurdles yet to come."
The conference call touched on progress on the next generation Palm OS, the possible plateau of Centro momentum and the recent launch of the Treo 800w and Treo Pro products. Colligan also warned that as Palm continues its transition period he expects further losses in the next few quarters to come.
On the positive side this quarter Palm saw higher than expected revenue on record smartphone sell through of 1,029,000 units, up 49 percent year over year. However average selling prices for Palm's smartphones were still relatively low for the company at $284 per unit which led to continued weakness in Palm's gross margins. 90% of total revenue came from the US.
Handheld sales continued to rapidly evaporate as the company has not issued new PDA products since October 2005. 166,000 handhelds were sold during the quarter, which represents a 49% decline from the same period last year. Handheld revenue was a paltry $33.1 million. Palm CFO Andy Brown commented that he expects this trend to continue.

Andy also went on to state that Palm will not see its usual "holiday bump" in handhelds sales given the staleness of the product line. When asked if the current macro economic issues were affecting sales, Colligan states that Palm has not seen an impact yet, but they remain cautious given the unprecedented events of this week.
The Centro continues to remain the driver of Palm's recent smartphone sell through records. The Centro is now available in 30 countries. As Centro momentum peaks, the company is looking towards its recently refreshed Treo line to boost sales and margins going forward.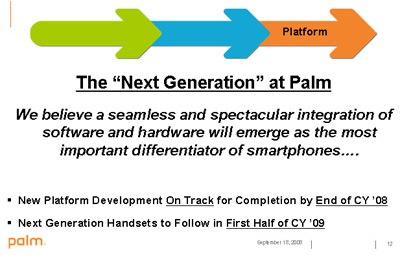 Palm continues to expand its executive team and announced the hiring of a few new higher level employees. Jeff Devine was introduced as Palm's new Senior Vice President, Global Operations. Mr. Devine comes from Nokia and will be responsible for developing Palm's global supply-chain model. Teri Klein, who comes to Palm from Disney, was also introduced as the new VP, Investor Relations. Colligan also mentioned a few unnamed hires joining the Windows Mobile team from Microsoft and Motorola.
Next Generation Palm OS
The topic of work on Palm's next generation operating system and products was yet again another point of optimistic discussion, but with very little concrete details were given. Colligan noted that Palm made notable progress towards its long range development goals during the quarter. He pronounced that the team has been executing "on time" and "as planned." He stated that development on the next-gen OS, code-named Nova, was firmly on track and he repeated his announcement/delievery window mantra of the first half of calendar 2009.
When pressed for more specific details on the new system software in the Q&A, Ed and Andy again firmly declined to give any specific updates or milestones. Internal work on the new OS is expected to be completed by the end of this calendar year.
Treo Pro Launches
During the quarter Palm launched two new smartphones, the Treo 800w on Sprint and the Treo Pro. Colligan clearly stated that both would see additional carrier launches in the coming quarter. The Treo Pro is just beginning to ship this month. It is being sold unlocked in many markets and will be available in Europe from Vodafone and 02 and from Telstra in Australia.
Colligan also confirmed that the Treo Pro would be sold through a carrier partner in the US (presumably AT&T), but he declined to give a timeframe. In a departure from past introductions, Palm decided to make the Pro available to consumers and business directly in an unlocked version before going through the often lengthy carrier approval process.
The following audio clip is Ed Colligan talking about the next generation product launch timeframe.
Article Comments
(51 comments)
The following comments are owned by whoever posted them. PalmInfocenter is not responsible for them in any way.
Please Login or register here to add your comments.

Only the first 50 comments are displayed within the article.
Click here for the full story discussion page...