Palm Stock Soars on Positive Pre Buzz
Friday, January 9, 2009 11:11:24 AM
After a long drown out decline and near dips below the dollar line, Palm's stock has make a commanding recovery since the new announcements. After the conclusion of Palm's presentation, late-day trading activity responded strongly in Palm's favor, sending the stock up 35%.
The market seems to be responding positively to the new Pre smartphone and WebOS platform. In trading today price is continuing its climb and is currently trading around $6. This is a pleasant turn of events from Palm's dismal financial performance of late, as the stock was trading in the low $3 neighborhood at the beginning of the week.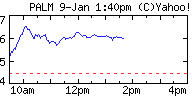 While Wall Street has responded positively to the initial news out of Palm's camp, some analysts are still proceeding with extreme caution. Needham & Co's Charlie Wolf, stated in a report that Palm "delivered on its promises" with the new device, but added that it still faces heavy competition in the smart-phone field. "Palm's challenge will be to steal at least some of the thunder from the heavyweight contenders in the smartphone market...In our opinion, the Pre clearly outshines Windows Mobile and Google's Android platform in their current iterations. But whether it can gain breathing room in an increasingly crowded market remains an open question, especially in view of the prospect that stunning new operating systems and smartphones will also debut during the year."
As of this writing on Friday 10:30am PST, Palm stock continues to perform strongly, opening at $5.24 this morning and $6.04 as of this writing, on much, much higher volume of 46,695,184.
Article Comments
(18 comments)
The following comments are owned by whoever posted them. PalmInfocenter is not responsible for them in any way.
Please Login or register here to add your comments.