Access Shows ALP 3.0 at MWC
Friday, February 20, 2009 10:42:55 AM

Access is exhibiting at the Mobile World Congress this week in Barcelona. The company has been showing off v3.0 of the Access Linux Platform, which was announced last October. Engadget caught a demo of it running on a TI Zoom OMAP34x-II Mobile Development Platform.
ALP v3.0 features a revised UI with new support for "Hollywood-style" graphics, transitions and added support for 2.5 and 3D graphics environments. The new version of ALP also adds Limo support and retains the Garnet OS legacy compatibility layer. ALP has yet to see a consumer release on any shipping mobile hardware.
LiMo Compliance
Access Linux Platform v3.0 delivers on Access' commitment to provide LiMo compliance to help OEMs/ODMs, operators and application developers reduce development requirements and time-to-market for LiMo devices. Furthering its support for the LiMo Foundation and the advancements of mobile Linux innovation, Access has also contributed components to the LiMo Reference Platforms that will further ease the deployment of sophisticated and differentiated LiMo devices. Access' Strategic Contributing Offer (SCO) is a subset of Access Linux Platform v3.0.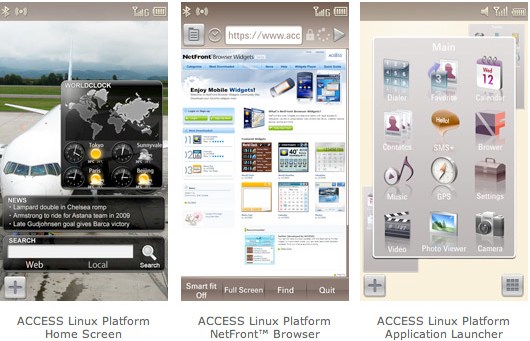 "We are pleased to count Access Linux Platform v3.0 as one of the LiMo Compliant products showcased at this year's Mobile World Congress," said Morgan Gillis, executive director of LiMo Foundation. "Access' contributions to the LiMo Platform and the introduction of their LiMo Reference Implementation are greatly appreciated and will accelerate the availability of LiMo further compliant devices."
"ACCESS continues to deliver on its promise to provide a broad range of solutions that are right for today's fast-paced market. We remain committed to setting the standard for mobile Linux devices, and ACCESS Linux Platform v3.0 is the next step in our technology evolution," said Tomihisa Kamada, Co-CEO and president of ACCESS. "The flexibility, modularity and openness of Linux make it ideal for mobile operators to deliver customized services — and our ACCESS Linux Platform v3.0 and ACCESS Linux Platform mini products make this customization easy to develop and market to consumers."
Article Comments
(32 comments)
The following comments are owned by whoever posted them. PalmInfocenter is not responsible for them in any way.
Please Login or register here to add your comments.