Palm Adding Paid Apps to the Catalog Soon
Tuesday, August 18, 2009 7:50:45 AM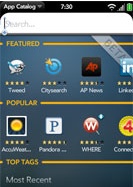 In an announcement sure to be welcomed by developers who like being paid for their work, Palm have begun taking submissions for their "Palm App Catalog e-commerce beta program". According to the press release and the Palm Developer Network blog, the beta begins in mid-September for United States users. Like the iTunes App Store, the split for paid apps sold via the App Catalog will be 70/30 (developer/Palm). Payment will be accepted via Visa or Mastercard credit cards.
Palm expects to launch the full developer program in the US this fall and more specifics on the program are still being worked out. Further information can be found on the Palm Developer Network Blog and we've posted some of the bullet points after the break.
"We're rolling out the submission process and e-commerce capabilities of the Palm App Catalog with careful consideration for both the developer and customer," said Katie Mitic, senior vice president, Product Marketing, Palm, Inc. "We want every part of the Palm webOS experience to be the best, and a strong e-commerce model is key to a thriving developer community, great apps and an excellent customer experience."
All developers can submit both free and paid applications today for evaluation by Palm. Details of the program are the following:

You can charge a one-time fee for the download of your application.
Initially, the user base for e-commerce will be limited to the United States.
Developers will receive 70 percent of revenues generated through application sales (less applicable sales taxes).
webOS users will pay for their application purchases using credit cards and will download apps directly to their webOS device.

Acceptance Criteria

Palm will accept apps into the beta test program based on the following criteria:

Apps should be useful and engaging to users.
They need to have an appealing design and user interface aligned with Palm UI guidelines.
They are written specifically for webOS and not delivered through the browser.
They leverage webOS platform and device capabilities, for example, notifications, multitasking/background processing, location services, accelerometer.
They have acceptable performance and response time on the device; apps with slow UI response or sluggish performance will be rejected. Applications that consume excessive power on the device will also be rejected.

How To Submit Apps

Follow these instructions to submit your webOS apps for evaluation to become part of the Palm App Catalog e-commerce beta program:

Send an email to catalog.ecommerce.beta@palm.com. In the subject of your email put your company followed by the name of your application (e.g. subject: My Company – My Application).
In the body of your email, include the following:

Your Palm webOSDev user name.
Whether the app will be free or paid; if paid, indicate the price (minimum of US $0.99).
A description of your application.

Attach the application package (.ipk file).
Send a separate email for each application.

Submission Guidelines
Article Comments
(53 comments)
The following comments are owned by whoever posted them. PalmInfocenter is not responsible for them in any way.
Please Login or register here to add your comments.

Only the first 50 comments are displayed within the article.
Click here for the full story discussion page...