Using a webOS Device Without Active Service
Monday, September 21, 2009 9:08:57 AM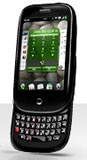 An interesting story has emerged from the PreCentral forums that could possibly be related to the recent story on Palm's apparent crackdown on unlocked GSM Pre sales.
Over the past few days, PreCentral member "dcorleto" has recounted the story of his previously-active Pre becoming a paperweight after ending his his Sprint service and moving to another carrier. Unlike most smartphones on the market, including all prior Palm devices and even the iPhone, it seems a previously-activated Sprint Palm Pre cannot be used as a standalone Wi-Fi based device or even as an offline PDA or media player once it ceases to function on the Sprint data network.
Locked Out?
In short, it has quickly become apparent that Palm's new crop of webOS-based devices are nearly fully dependent on the user maintaining an active data service with the phone's intended carrier or service provider. Some users are even speculating that the delays and lack of concrete info concerning the GSM Pre may be due to software customizations required by Palm in order accommodate various EU country laws and regulations regarding service and carrier locking.
Current Palm Pre users who pay an early termination fee to prematurely end their contract, purchase full price, unsubsidized or unlocked devices or have simply fulfilled the terms of their service contract still technically own their handsets and do not lease them from a provider. Under such circumstances, users fully expect to be able to resell or use these devices' native capabilities in a manner not requiring an active carrier data service.
In addition, the status of an inactive user's Palm Profile data in the cloud remains unknown, raising a number of potential privacy issues that Palm may have to eventually address alongside the earlier user monitoring issue covered last month.
Such situations are an ominous harbinger of the realities of cloud-based computing with highly-secured devices primarily designed as conduits to serve up data from WWAN networks alone. One would imagine that the upcoming Palm Pixi could potentially be an even more useless device in such a situation, given its lack of built-in wi-fi networking.
As of this writing, the original poster of the thread has managed to resurrect his Pre, but only after resorting to a rather unconventional and risky method. Dcorleto had to reflash a webOS image rom and perform some other special instructions just to be able to bring up his previously-stored Palm Profile data via Wi-Fi.
Article Comments
(32 comments)
The following comments are owned by whoever posted them. PalmInfocenter is not responsible for them in any way.
Please Login or register here to add your comments.