Palm Announces New Heads of Developer Relations
Saturday, September 26, 2009 5:32:32 PM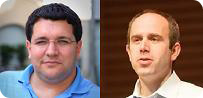 You could knock us over with a feather: Palm has announced two new high-level hires, and they're not Apple Inc alumni! Via the Developer Network Blog, SVP of Marketing Katie Mitic has named Dion Almaer and Ben Galbraith of Mozilla Bespin and Ajaxian fame as the new showrunners for Developer Relations. Both men have written separately about the news on their personal blogs, with an obvious enthusiasm for web technologies and openness that should prove refreshing to developers on that other smartphone platform.
Read on for some fun quotes...
Palm SVP of Marketing, Katie Mitic:

Now that our exciting Web-based platform, Palm webOS, is ready for developers, the time was right to ramp up our Developer Relations team, to ensure the best possible developer experience. When we sat down to think about the type of person that needed to lead this team, two things were clear: we needed real developers at the helm, and they needed to be developers with a deep understanding of the Web environment.
...
When I first met them, I instantly appreciated the passion that they had for the Web, and their desire to do great things to engage and excite developers. I expect them to think big and work diligently to make Palm webOS a platform you love to be a part of, and also one that helps you grow your business.
At the same time the Web has been expanding, we've all been blown away as desktop computers have somehow shrunk down to pocket size. Clearly a revolution in hardware is taking place and it doesn't take a prophet to work out that the future of computing lies along this new trajectory.

However, my enthusiasm for this amazing new world is tempered by some unfortunate decisions made by some of the players in this space. It seems that some view this revolution as a chance to seize power in downright Orwellian ways by constraining what we as developers can say, dictating what kinds of apps we can create, controlling how we distribute our apps, and placing all kinds of limits on what can do to our computing devices.
There is a massive opportunity with Palm webOS to give Web developers the ability to deploy outside of the browser, and onto the device.

I have long been frustrated with the status quo with certain platforms, and as I thought about what makes me happy as a developer, it is freedom, choice, and information flow. I feel passionately about bringing these values to mobile, and carry my Web DNA with me. When Palm came to Ben and I, we were curious to see how much they understood what it really meant to have a "webOS". The management team impressed us, and persuaded us that they understand how important the principles of the Web are, as well as the crucial role of developers. By giving us the honor of this responsibility, they signal their intent.
Article Comments
(176 comments)
The following comments are owned by whoever posted them. PalmInfocenter is not responsible for them in any way.
Please Login or register here to add your comments.

Comments Closed
This article is no longer accepting new comments.

Only the first 50 comments are displayed within the article.
Click here for the full story discussion page...