Facebook for iPhone Developer On webOS
Wednesday, November 11, 2009 10:13:08 PM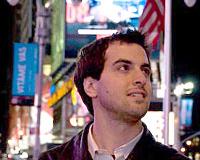 Joe Hewitt's the man behind the native Facebook app for the iPhone, which has sat atop the App Store download charts for what seems like forever. Today came the announcement that he's quitting the project, and TechCrunch reports that it's squarely down to Apple's draconian App Store policies:
My decision to stop iPhone development has had everything to do with Apple's policies. I respect their right to manage their platform however they want, however I am philosophically opposed to the existence of their review process. I am very concerned that they are setting a horrible precedent for other software platforms, and soon gatekeepers will start infesting the lives of every software developer.
Joe goes on to say that he intends to get back to his roots as a web developer. It was that last part that caught your correspondent's attention, because if there's one mobile platform that's truly gunning for web developers, it's Palm's webOS. PIC reached out to pick his brain on the topic...
I was at the event a month back where Palm announced their new app distribution policies, and I found it to be a big step up from Apple, but still not good enough. We shouldn't have to register with Palm to distribute our app. Users should be able to download and install apps directly from any URL. Having talked to some folks there, I am optimistic they will adopt that model at some point.

I would love to develop for WebOS. It's probably my favorite of all the current mobile OS's, although the performance of the Pre is absolutely horrid and I can't imagine developing for it until they optimize their software and put out better hardware.
So there you have it: webOS is great, but desperately in need of optimization and the hardware could use some spit and polish. And Palm's new policies are good, but could be better. We can't help but wonder how many other high-profile developers are out there that feel the same way...
My own opinion? Complete app distribution freedom worked fine on Palm OS. Why can't we have the same on webOS?
Article Comments
(5 comments)
The following comments are owned by whoever posted them. PalmInfocenter is not responsible for them in any way.
Please Login or register here to add your comments.