Facebook For webOS Cops A Drubbing
Monday, November 16, 2009 5:30:47 AM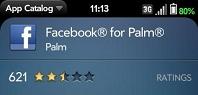 Whoever came up with the age-old expression "don't look a gift horse in the mouth" evidently forgot to pass on the aphorism to webOS users, who are complaining in droves about the new Palm-developed native Facebook app for webOS.
For those unaware, the app offers a very, very basic Facebook experience, allowing you to interact with your main News Feed... and that's about it. The masses do not appear to be pleased, with the app currently garnering a rather embarrassing 2.5 star rating in the App Catalog. Some light editorialising after the break...
webOS users could be forgiven for feeling a bit cheated, given that (a) Facebook were presented to the tech press as a major partner with Palm at the original CES announcement of webOS, (b) Palm are constantly extolling the virutes of how quickly and easily web applications can be built with webOS - and with 10 months having passed since the webOS announcement, you'd think that would have been more than enough time to put together a fully-featured application - and (c) practically every other smartphone on the planet - including Palm's own old-school PalmOS devices - offers a more well-rounded experience with the planet's most popular social network.
In short: not good enough, Palm. Your notification system, multitasking and IM-integrated messaging experience give you the capabalities to offer the best social networking experience on any smartphone to date. How 'bout you put 'em to good use?
Article Comments
(23 comments)
The following comments are owned by whoever posted them. PalmInfocenter is not responsible for them in any way.
Please Login or register here to add your comments.