Palm Unveils Bluetooth SD Card
Thursday, June 7, 2001 9:15:58 AM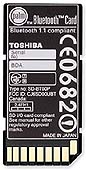 Bringing the Bluetooth short-range wireless communication standard one step closer to reality, Palm, Inc. announced today the Palm Bluetooth Card at the Bluetooth Congress 2001 in Monoco. The card, somewhat larger than a postage stamp, will allow for short-range, wireless communication between Palm handhelds and other Bluetooth-enabled devices, such as mobile phones, laptops, printers, network hubs and other handhelds.
Designed using the open industry-standard Secure Digital Input/Output (SDIO) specification, the Palm Bluetooth Card can be slipped into Palm handhelds that have the SD/MMC slot, currently the m500 and m505. The card, jointly developed by Palm and Toshiba, is expected to be available before the end of the year for $150 or less
"The nice thing about it is that we don't have to wait for anyone else's gizmos," said Mr. Mace, asserting that Bluetooth is more suitable for handhelds and mobile phones than other wireless standards such as Wi-Fi. "We think Palm-to-Palm and Palm-to-phone are the two biggies."
Palm also said today it will offer Bluetooth support for Palm OS 4.x software by the end of the year. This will allow licensees to easily incorporate Bluetooth into products or release add-on Bluetooth solutions for current Palm Powered products. This also will let Bluetooth-based software applications to work seamlessly on all Palm Powered handhelds.
Palm and the Bluetooth Special Interest Group (SIG) believe that products like the Palm Bluetooth Card will play a key role in making Bluetooth a wireless industry standard for Personal Area Networking (PAN). Multiple Bluetooth-enabled devices in proximity to one another can -- at the user's initiation -- form a PAN in which up to eight devices communicate and share information.
Makers of handhelds, phones, laptops, printers and Bluetooth access points are working with Palm and other members of the Bluetooth SIG to lead development of the Bluetooth standard and create devices of all kinds that work instantly and seamlessly with each other. With the kind of third-party software applications that Palm and other Bluetooth SIG partners are encouraging developers to create, handheld users will have the power to communicate with almost any other user or device.
"Bluetooth has the ability to change the way we work, share information and interact with each other,'' said John Cook, senior director of product marketing for Palm, Inc. "As Bluetooth-enabled products become more pervasive, we believe they will inspire people to create a new class of products and services that we can only begin to imagine.''
About Bluetooth
Bluetooth is a specification for a small form-factor, low-cost, radio connection providing links between mobile computers, mobile phones and other portable and handheld devices, and connectivity to the Internet. The Bluetooth Special Interest Group, made up of leaders in the telecommunications, computing, and network industries, is driving development of the technology and bringing it to market. The Bluetooth SIG includes promoter companies 3Com, Ericsson, IBM, Intel, Lucent, Microsoft, Motorola, Nokia, Palm and Toshiba, and more than 1,800 adopter companies.
Related Articles:
Article Comments
(73 comments)
The following comments are owned by whoever posted them. PalmInfocenter is not responsible for them in any way.
Please Login or register here to add your comments.

Comments Closed
This article is no longer accepting new comments.

Only the first 50 comments are displayed within the article.
Click here for the full story discussion page...