Handspring to Announce Visor Pro and Neo
Thursday, September 13, 2001 10:03:29 PM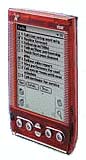 Handspring is going to announce on Monday two new Visor models. The Visor Pro is a mid-range model and will be the first ever to ship with 16 MB of RAM. It will cost $300. The Visor Neo is a low-end model that will have 8 MB of RAM and come in three possible casing colors. It will be $200.
Both of these new handhelds have monochrome screens, run the 33 MHz Dragonball VZ processor, and have regular Springboard slots.
They both have backlit monochrome screens, supporting 4-bit grayscale for 16 shades of gray. This is the same screen that is on the Visor Platinum.
The Neo comes in one of three possible new semi-transparent colors: smoke, red, and blue. The Pro comes in a conservative silver. They can use the same peripherals as the other Visor models, except ones specifically designed for the Edge.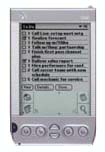 The Pro has a rechargeable lithium ion battery while the Neo runs on two AAAs. As would be expected, the Pro is charged in its cradle. Unlike the identically priced Sony S320, the Neo comes with a cradle.
Surprisingly, both of these models run Palm OS 3.5, not the latest, OS 4. Like all Handspring models, neither has Flash ROM, which means that they can't be upgraded at a later date.
They offer the Fast Lookup feature, first introduced with Visor Edge, so that users can access contact information more quickly and with one hand using the application buttons instead of the stylus.
Both Visor Pro and Neo are will be available in the United States, Canada, Europe, and Asia on Monday. Colors, models, pricing and availability may vary in each country.
Handspring intends to discontinue the Platinum in the near future while the Deluxe should still be available through the end of the year.
This is not a rumor; this information comes from Handspring itself. While it had not intended to say anything about these models until Monday, the Pro and Neo were already shipped to stores to be ready for the release and some were mistakenly placed on shelves. When Handspring got wind that stories were starting to appear on them, it went ahead and released this information to websites with which it has a good relationship, including this one.
Related Information:
Article Comments
(140 comments)
The following comments are owned by whoever posted them. PalmInfocenter is not responsible for them in any way.
Please Login or register here to add your comments.

Comments Closed
This article is no longer accepting new comments.

Only the first 50 comments are displayed within the article.
Click here for the full story discussion page...