Palm Bluetooth Card on PalmStore
Tuesday, March 12, 2002 7:46:23 AM
The Palm Bluetooth SD Card is now listed on the PalmStore. This card has been available in Europe since last month but has only been available in the U.S. from a few stores and not from Palm itself. The card sells for $130 and it's available now. It will work with all Palm-branded handhelds that have an SD slot.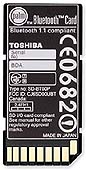 The Bluetooth SD Card comes with several applications. BlueBoard is an app that lets users wirelessly share a whiteboard while BlueChat lets them write instant messages to each other. Both of these have been licenced from Colligo Networks.
It will come with BtPrint from IS/Complete which lets the user print to a Bluetooth-enabled printer.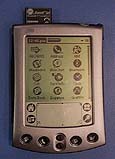 One of the primary uses Palm sees for the Bluetooth SD card is it will let people wirelessly connect to their mobile phones and access the Internet from anywhere, without having to hook up wires or keep infrared ports pointed at each other. Naturally, this requires a Bluetooth-enabled mobile phone, which are just starting to become commonly available in the U.S. They are more common in Europe, which is probably why this card was released there first.
The card will also work with Bluetooth network access points, like the one from Pico Communications. The PicoBlue Internet Access Point allows Bluetooth-enabled handhelds to connect to a network or the Internet. It has a range of up to 100 meters and supports up to 7 simultaneous users. It is available now for $500.
Userc can connect to desktops and laptops with Bluetooth adapters and wirelessly HotSync.
This card was co-developed by Palm and Toshiba.
Sony announced a similar Bluetooth Memory Stick yesterday. However, that won't be available until March 23 and then only in Japan. There is no word when it will be available in the U.S. or Europe.
Thanks to Willie G.,  j joe and MPA for the tips. -Ed
Related Information:
Article Comments
(96 comments)
The following comments are owned by whoever posted them. PalmInfocenter is not responsible for them in any way.
Please Login or register here to add your comments.

Comments Closed
This article is no longer accepting new comments.

Only the first 50 comments are displayed within the article.
Click here for the full story discussion page...