More On the Tapwave Zodiac
Friday, September 5, 2003 12:28:31 PM
UPDATED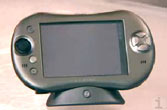 Firm details and a new video on the upcoming Tapwave Zodiac are now out. The Palm OS handheld gaming device is set to be launched at the DEMO mobile conference on September 17th.
The Tapwave Zodiac will officially be unviled at the Demo Mobile Conference (September 17- 19) in La Jolla, California. The company will begin to take pre-orders on Sept 17th, and expects to start shipping in October. There will be two versions, a 32MB model will cost $299 and a higher end model with 128 MB of RAM will sell for $399.
The Zodiac will be based on Palm OS 5.2 and will feature a 3.8 inch diagonal 480 x 320 pixel screen, analog joystick navigation with integrated triggers and buttons, 3D graphics acceleration, stereo sound and Bluetooth for multiplayer wireless gaming. It will have two SDIO expansion slots for memory expansion, games and accessories such as a digital camera. Internally it will run a i.MX1 Motorola ARM9 Processor, and has ATI® Imageon graphics accelerator and Yamaha audio component. The unit will be powered by dual lithium batteries, said to last for 16 hours.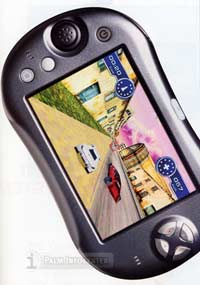 The Zodiac will focus on mobile gaming but will also feature audio and video abilities. The device will also be able to run the already vast library of Palm OS software and PIM apps.
Tapwave has created a comprehensive program to attract and support a broad range of developers and publishers from the professional video game industry and the Palm OS community. Tapwave is will launch with a number of premier video game titles from companies like Activision, Infogrames, Midway, and others.
It will launch with between 15-20 games optimized for it including, "Neverwinter Nights," "Tony Hawk", "Spyhunter" and "Doom II." Games will also be sold on SD cards for $29.95.
News.com has a video featuring a close look at the Zodiac.
Tapwave's leadership team includes the original engineering executives from Palm (e.g., the first VP of Engineering from Palm and her successor), lead marketing strategist from Palm and HP (PCs), and an executive producer from Electronic Arts.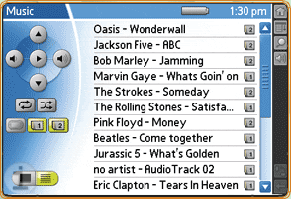 PalmInfocenter has launched a new forum messageboard dedicated to the Tapwave Zodiac.
UPDATE Thanks to PIC reader, Tony Changho for sending in high resolution scan of the Zodiac. The image appears in the October 2003 issue of Wired Magazine.
Thanks to the many that sent it tips.
Article Comments
(79 comments)
The following comments are owned by whoever posted them. PalmInfocenter is not responsible for them in any way.
Please Login or register here to add your comments.

Comments Closed
This article is no longer accepting new comments.

Only the first 50 comments are displayed within the article.
Click here for the full story discussion page...