Dataviz Releases Documents To Go Version 7
Monday, August 16, 2004 1:29:52 PM
DataViz has announced that Documents To Go Premium Edition Version 7 is now available. With the addition of native Microsoft PowerPoint support, Documents To Go Premium Edition now offers native file support for all the core Microsoft Office document file types - Word, Excel and PowerPoint - as well as JPEG and BMP picture files.
"With the addition of native PowerPoint file support for both Mac and Windows users, Documents To Go is truly an unsurpassed office suite," said Ken Wirt, senior vice president worldwide marketing at palmOne. "Now palmOne handheld and smartphone users have excellent flexibility in working with their Office documents; they can synchronize contracts from the desktop, get the latest numbers sent to them via e-mail, or browse to a network folder to wirelessly retrieve a presentation."
In addition to native PowerPoint, JPEG, and BMP support, new features include a new handheld user interface, support for displaying Chinese, Russian, and Greek character sets, and integration between word processing documents and wireless browsers and e-mail applications. Documents To Go Premium Edition Version 7 is also the first version of Documents To Go that allows Mac users to use PowerPoint files on the handheld.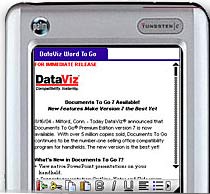 Before native document support, the Documents To Go desktop application converted Microsoft Office files to a special handheld format that Documents To Go could open. Then the files were synchronized to the handheld. With native support, transferring and opening files is even easier, so no desktop application or pre-processing of files is required.
Several new features are offered in Documents To Go Premium Edition Version 7. These include:
-- Native PowerPoint support: Documents To Go Premium Edition Version 7 is the first and only Palm OS Office suite to support presentation Outline, Notes and Slide views natively. Receive native PowerPoint files via e-mail, Bluetooth, IR beaming or expansion cards and view them in Documents To Go with confidence. Documents To Go also supports PowerPoint for the Mac.
-- Native picture support: Pictures taken with built-in cameras are automatically displayed inside the Documents To Go application for easy viewing and e-mailing.
-- Completely new handheld user interface: The interface has been redesigned to streamline access to commonly used features such as Save, Sort, character formatting, alignment, and more. In addition, full screen support hides toolbars and menus to maximize the data onscreen.
-- Support for additional character sets: View Traditional Chinese*, Simplified Chinese*, Russian** and Greek** characters in word processing and spreadsheet documents.
-- Web and e-mail client integration: Web links and e-mail addresses in word processing documents are now integrated with the most popular handheld web browsers and e-mail applications.
-- Includes FilePoint Wireless software from Bachmann Software Inc: Wirelessly retrieve your documents from a shared desktop or network folder.
Documents To Go Premium Edition Version 7 is available now for download [BUY] and will be available by September 1 in office supply and computer retailers such as Staples, CompUSA, and Office Depot, as well as from online sites such as Amazon, Handango, and PalmGear. The suggested retail price is $49.99.
Upgrade pricing of $29.99 is available for all previous Documents To Go customers, including customers who received Documents To Go as bundled software with palmOne, Sony CLIE, or AlphaSmart handhelds.
Article Comments
(18 comments)
The following comments are owned by whoever posted them. PalmInfocenter is not responsible for them in any way.
Please Login or register here to add your comments.

Comments Closed
This article is no longer accepting new comments.