A First Look at the Sony PEG-NR70V
By Ed Hardy
I have to start this off by pointing out that I've only had the NR70V for about a day, which is why I'm calling this a "first look". Still, I've played with it enough that I think you might be interested in my first impressions. There will be a full review of the NR70V in a few days.
Overview
For the benefit of those of you who have been living in a cave and haven't already read about the NR70V, it is a clamshell model that has a 320 by 480 screen with a virtual Graffiti area. It has a built-in keyboard, digital camera, and MP3 player. It has 16 MB of RAM and is the first Palm OS device to use a 66 MHz processor. It has an impressive feature set and an impressive price: $600.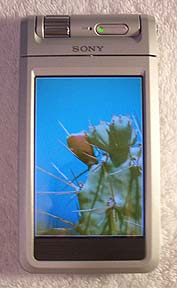 The Screen
Without a doubt, the NR70V's 320 by 480, 16-bit screen is its crowning glory. It's just awesome to look at. The amount of screen real estate is great and the colors are good. Colors aren't as bright as they are on my PC monitor but they are close.
While it mostly looks great, the screen isn't perfect. Mine has some small dim shadows along one side. I've heard some T615C users complain of this too. I have no idea yet if this is going to be common on the NR series.
At this point the screen has a lot more potential than anything else. It is desperately crying out for software that make use of it. Frankly, I think Sony kind of dropped the ball in this area. The NR70V ships with one, that's right one, app that takes advantage of the 320 by 480 screen. That's its PhotoStand that shows a slideshow of images while the handheld is in its cradle.
I think Sony decided to do something close to what Palm did with VFS support in OS 4.0 and the m500 series. They built in the hardware and gave third-party developers an API and said, "Go to it".
I just wish Sony had stepped up to the plate themselves. None of the built-in apps support the larger screen. Heck, HandEra did this for the 330 and Sony has about a thousand times the resources. The Date Book and Address Book would have been really improved with a full-screen view.
Fortunately, third party apps have been appearing rapidly that support the NR70V's screen, most notably TinySheet and Action Names Datebook from iambic and the beta of AcidImage from Red Mercury. I'll try to get some mini-reviews of these out during the two short weeks I have the NR70V before Sony wants it back.
But once a good number of productivity apps and games are out that support the larger screen, it's going to be killer.
While I'm on the subject, I'm getting tired of writing "320 by 480 screen" over and over. From now on, I'm going to call it "hi-res+", to differentiate it from Sony's 320 by 320 screen, which I call "hi-res".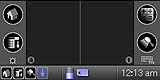 Virtual Graffiti Area
The discussion of the virtual Graffiti area goes hand-in-hand with talking about the hi-res+ screen because the extra screen real estate comes from being able to collapse the Graffiti area.
There is a small blue arrow at the bottom of the screen that will make the Graffiti area disappear, if an app supports it. Even when it's gone, there are small icons in a band that take the place of the Home, Menu, and Find buttons. Also in this band is a battery meter, an icon that indicates if a Memory Stick has been inserted, and a clock.
This band is there almost all the time, even when the Graffiti area isn't hidden. But some apps take over the whole screen, like PhotoStand.
Having the Graffiti area created by the OS has other advantages, too. As you write in the Graffiti area, your lines appear on the screen immediately where your stylus touches.
If you tap an icon, a Qwerty keyboard replaces the Graffiti area.
Like I said, I'm not going to go into third-party apps at this point but I want to point out that trying to use the popular MiddleCaps Hack crashes my NR70V 100% of the time as soon as I so much as touch the Graffiti area.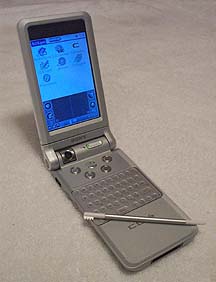 Clamshell
The NR70V is like no other Palm OS handheld before. It's shaped like a clamshell, with a keyboard and hardware buttons on one side and the screen on the other.
But if you would prefer the more standard design, it can do that to. You can rotate the screen to where the clamshell is closed but the screen is on the outside.
I think this is great. I tend to spend a lot of time with it in tablet mode but when I want to type something, I switch it to clamshell mode. Of course, I carry it around completely closed.
It's like the NR70V is its own hardcase. I don't think opening it and doing to twist-flip to put it into tablet mode is much more inconvenient than many other cases I've used.
A nice touch is if you close the handheld while it is on, it will turn itself off. When you open it again, it will turn itself on again.
The Keyboard
At this point, about all I'm going to say about the built-in keyboard is typing on it takes some getting used to. Pressing the keys isn't too hard but getting used to the different key arrangement is taking me a while. I'll keep practicing with it and let you know what I think in the final review. I'll also do some speed tests between it and Graffiti.
Audio Player
In some ways, the NR70V's MP3 player works pretty much the same as the one from the N760C. MP3s are stored on a Memory Stick and played through the headphones. But the NR series has a much better built-in speaker than the N series did and it makes good use of it. If the headphones aren't plugged in, the song gets played by the speaker.
The audio on the little built-in speaker isn't very loud, but it sounds pretty good. At least to me. I'm sure real audiophiles will turn white in horror at the idea of listening to music on a single small speaker.
The Camera
Until now, everything I've said applies to both the NR70 and the NR70V but here we come to a parting of the ways. The NR70V has a built-in digital camera, while the NR70 does not. If you are thinking of getting the NR70, skip this part.
The camera is built into the hinge and can be rotated to point at the user or away. It can also be rotated downward towards the handheld, which serves as a lens protector.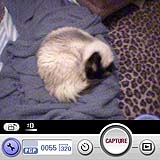 The camera app isn't the same as the one on the Memory Stick camera I reviewed a while back. The best change is the view finder is at least twice as big.
You can take pictures at various sizes: 320 by 240, 160 by 120, and 88 by 88. These small sizes help save space on your handheld but also limit the usability of the camera. I doubt you'd like all your vacation pictures to be saved at 320 by 240. Still, they are good for taking some shots of your friends goofing around and then emailing them to them the next day for blackmail. That smallest size is so you can include thumbnails of people in the Address Book.
Speaking of saving space on your handheld, another other major improvement is you can take a picture and and have it saved directly to a Memory Stick.
Sony did a good job of integrating the camera in to the handheld. There is a button on the left hinge that, when pressed, either launches the camera app or, if it is already open, takes a picture.
The Motherboard
Last but certainly not least, the NR70V packs the 66 MHz Dragonball Super VZ. I ran Benchmark 2.0 and got an outstanding 307%. It can run the spell checker in WordSmith blindingly fast.
The NR70V has 16 MB of RAM, which is a nice amount. This gives you plenty of room to store all your most frequently used apps and data. Though the power users who are likely to spring for a high-end device like this one should really get a Memory Stick or two for all the other games and files they only use occasionally.
It also has 8 MB of flash ROM, which will come in handy for those of you who still like to store extra stuff in ROM. It will also let you install upgrades, if Sony releases any for this model.
The Future
I keep hearing this hashed out on message boards around the Web so I'll do my part to clear something up. Palm OS 5, which is coming within the next six months, will run only on handhelds with ARM-based processors, which the Dragonball Super VZ is not. To put it another way, the NR series will not be able to run OS 5. Period.
That will certainly cause some of you to hold off buying a new handheld until the fall. While I can understand this, I'd like to point out that many of the hot new features that will be in OS 5 are already in the NR series, like the larger screen and multimedia capabilities.
Coming Soon
I know there are lots of things about the NR70V I haven't covered yet. For example, I haven't even mentioned the built-in TV remote or the Jog Wheel. I'm also sure you want to know about the battery life but I need more time with it to do my tests. I'm sorry but you'll just have to wait until the full review. I've said enough for a preliminary one like this.
Conclusion
It's still to early for me to draw any real conclusions on the the NR70V. So far, you can probably tell I think it's very cool but I'd like to use it for a few more days before I made the final call.
Article Comments
(198 comments)
The following comments are owned by whoever posted them. PalmInfocenter is not responsible for them in any way.
Please Login or register here to add your comments.

Comments Closed
This article is no longer accepting new comments.

Only the first 50 comments are displayed within the article.
Click here for the full story discussion page...