HP Holds TouchPad Fire Sale, Sell Outs Ensue
Tuesday, August 23, 2011 12:46:48 PM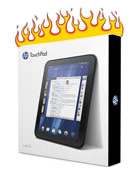 No sooner had we posted news last Friday of the availability of the white 64GB TouchPad when HP dropped a bombshell not only on the WebOS market but the entire mobile industry. Effective immediately last Friday night, HP slashed the price of the 16GB Touchpad down to $99, with the 32GB Touchpad reduced to $149. They also sent out a memo to all of their channel partners instructing them to do the same, with the clearance pricing fully in effect as of Monday morning.
As expected, response to the clearance pricing has been absolutely phenomenal, with the TouchPad arguably being the most sought-after piece of personal technology ever online. Over 350,000 TouchPads were reportedly sold this past weekend, with those numbers certain to grow as warehouses empty out the remaining TouchPad stock.
Relentless demand for eager deal-seekers saw numerous e-tailers' sites go down, including HP's own online store. Even the WebOS-related community felt the rush of interest, as PIC received numerous visitors over the weekend and PreCentral suffered from intermittent service outages all weekend. This continuously-updated Wiki on the Slickdeals.net site summarizes the current status of TouchPad sales.
Almost overlooked during the TouchPad frenzy was that HP was quietly blowing out a small stock of unlocked GSM Veer and Pre 2 smartphones for $49 apiece. No word as of yet on clearance pricing for other WebOS smartphones, such as the Verizon Pre 2 or the just-launched 64GB TouchPad. It's also unknown whether or not the 4G TouchPad will ever see the light of day in any official capacity.

According to WebOSRoundup, HP is going the extra step by allowing TouchPad early adopters to either exchange their devices for a full refund or, if users want to keep their devices, crediting them the difference on the fire sale prices. HP has also instructed their reseller partners to do the same, though users are reporting mixed experiences getting some retailers to honor this request.
Quite notably, Best Buy has extended the TouchPad's return window to a full 60 days, so even customers who purchased a TouchPad on its July 1st launch date can return their device to Best Buy for a full refund.
Related: HP TouchPad Review - TouchPad Touchstone Dock Review
Article Comments
(3 comments)
The following comments are owned by whoever posted them. PalmInfocenter is not responsible for them in any way.
Please Login or register here to add your comments.