HP Veer 4G Initial Impressions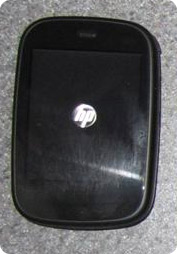 By: Kris Keilhack
May 6, 2011
Reviewer's note: As most of you may gather, I am not a regular WebOS user, having taking a pass on the initial WebOS devices in 2009 and 2010. I do own a Verizon Pixi Plus, purchased new several months ago. I activated the Pixi, used it as my primary device for about two days, then switched back to my Motorola Droid X since I never intended to use the Pixi as my primary device. I keep the Pixi Plus around for comparison purposes, using it on wi-fi. It will be my primary comparison point for the Veer for the purposes of this review.
Packaging & Box Contents
I was a bit surprised to see HP carrying on with the rectangular Palm-style rigid cardboard box. The box is adorned in the standard AT&T blue, orange and white colors, which is starting to look a bit dated, as it reminds me too much of the old Cingular days. Nevertheless, the packaging is quite nice. My review unit is the standard all-black version but it also being offered in a two-tone white motif.
Inside the box is the Veer, the standard documentation and paperwork, a mediocre 3.5mm stereo headset, and, tragically, the magnetic microUSB cable and 3.5mm headphone jack adapter. Sadly, Palm's classy "Designed in California" text has been removed. The bundled USB AC adapter is still amusingly branded as "Palm" which is the only visible place on the hardware where the old logo carries over. "Palm" still does appear in a few spots throughout WebOS 2.1.2, however. The Veer is adorned with HP and AT&T logos but nothing indicating Palm (unsurprisingly) or WebOS (surprisingly).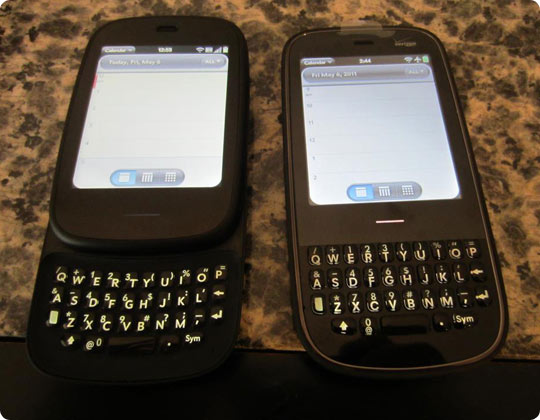 Form factor & Build Quality
My initial impression out of the box is that the Veer is impossibly tiny! I was expecting something along the lines of a reduced-size Pre but I was not expecting anything this Lilliputian! The Veer can hide completely under a credit card! It slips safely into a shirt pocket without a moment's hesitation. Without a doubt, this little gizmo is the best execution yet of Palm's "river pebble" theme as first seen at CES 2009 with the original Pre. Despite my fondness for large-screen hummer sized handsets, I simply must confess that the Veer is a very pleasant device to hold in the hand. It has sleek yet gentle curves, pleasant contours and general soothing aesthetics showing that the zen of Palm still lives on. Indeed, I found myself walking around carrying the little fellow in my hand and marveling at how easy it is to use one-handed with the slider closed. The entire exterior is coated with a lovely soft-touch paint that does not suggest it will pull a Zire 72 and peel off after a few weeks' use. The Veer is the anti-Droid, in every sense of the term.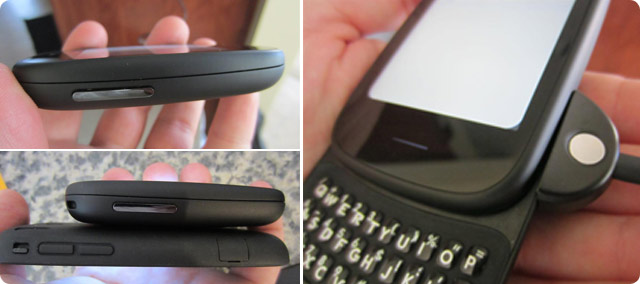 One of the biggest criticisms lodged at the current stable of WebOS devices has been the sub-optimal build quality. While we saw a few furtive steps on the road to quality recovery with last year's Pre Plus and Pre 2, I am glad to report that the Veer is leaps and bounds ahead of past Palm devices in this regard. There is no twisting to the keyboard when the slider is extended and only the tiniest hint of a wobble. No flimsy port doors are in attendance (more on this below) and the device's handful of external buttons feel fantastic. I have no worries that this little phone's power button will collapse or become unresponsive like my Palm Vx, Tungsten T5, and TX did in years past. The volume keys in particular feel especially solid. They don't protrude too much, they are not too deeply recessed and they don't wiggle or rattle.
I do worry about the long-term health of the exposed contacts on the sync/charge port. I have serious doubts they will survive over the long term, especially when used extensively by sweaty, grimy hands or when the phone is carried loose in a pocket and likely to come in contact with keys, change and other miscellaneous items.
As you may have gathered from the box contents description, it's true that the Veer cannot charge and have a headphone or headset connected simultaneously. Only one past Palm device--the all-but-forgotten Treo 800w -- required users to choose between connectivity and charging. Of course, the Veer's tiny size and robust Touchstone dock and Bluetooth wireless capabilities mitigate the issue somewhat but this is still certain to be a deal-breaker for some. Looking around the top panel of the device , the location of the lanyard loop would seem an ideal spot to cram in 3.5mm headphone jack, even if it enlarged the dimensions slightly. I suspect many users are like myself and could deal with perhaps one of these two shortcomings. But having to deal with an easily-lost proprietary charging plug, no standard headphone jack, no removable battery and no expandable storage are too many sacrifices in a single modern smartphone. I can just imagine the feeling of panic this would instill if I were on a trip and faced with a lost microUSB cord and rapidly dying battery.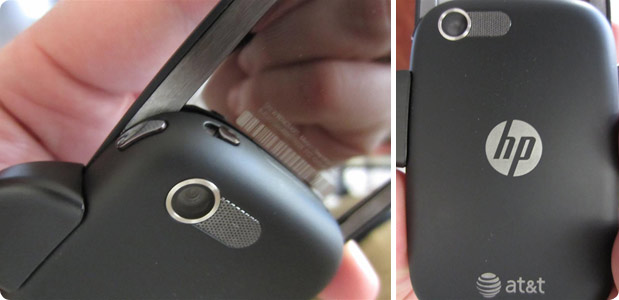 Camera & Speaker
I was disheartened to see that that in addition to the microUSB port, removable battery and 3.5mm headphone jack, another casualty in HP's downsizing has been the camera's flash. Judging by a few quick test pictures, the Veer's 5mp camera is another area that greatly surpasses the Pixi's feeble 2mp camera, though I must admit that I would have a hard time giving up an autofocus smartphone camera lens if I had to switch to a WebOS device for daily use.
For such a tiny device, the integrated speaker is passable but certainly won't set any records for clarity or volume. During a few test calls over the speakerphone last night, callers reported I was a bit distant and muffled sounding. When navigating a voicemail setup menu, the system's voice prompts were occasionally distorted when on speaker. I had no issues when using the device on the ear speaker. I think the old Centro still holds the record for the best speakerphone quality on a "Palm" device.
The internal vibration is significant stronger on the Veer than on the Pixi. Thankfully, the Pre's nifty mirror has been carried over, though I still don't know if it's intended more for self-portrait compositions or applying makeup.
Keyboard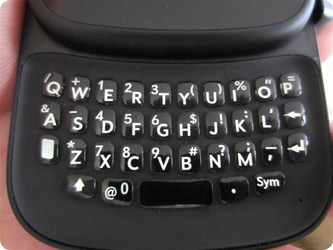 The much-beloved traditional Palm "smile" keyboard is back and basically in fine form. The reduced width of the keyboard compared to the Pre is definitely noticeable but something easily adapted to after a few minutes of typing. I still miss the contrasting orange numbers from the original Pre keyboard but, like the center button, I have a feeling those are not coming back any time soon. One huge improvement over my Pixi Plus is that the Veer has bright, consistent LED illumination across the full width of the keyboard. My Pixi is brightest in lower left corner with the top corners being rather dim.
Out of all of the current crop of WebOS devices, I still prefer the Pixi's flush-mounted, "clicky" keys but there is certainly nothing wrong with the Veer's keyboard. In this day of all-touchscreen candy bar smartphones, it's refreshing to see another real QWERTY entry, especially at this price point and segment of the market. About the only major complaint I can make about the Veer's keyboard area is that the lip at the very bottom of the device is still a bit sharp when the slider is open. Also, the space bar is still not backlit as it was on the old Treo 700p and earlier devices.
Screen
I will leave any extensive comments on the reduced screen size and resolution for the full review. However, let's just say that it's quite a challenge to go from a 4.3" 854x480 screen capable of 16 million colors on my daily driver (a Motorola Droid X) to a 2.6" 320x400 screen capable of 262k colors.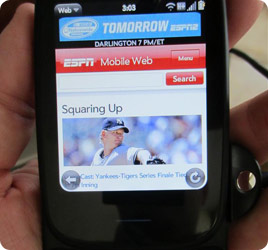 The omnipresent gesture area is still around and remains unchanged. Much like the silkscreen Graffiti area on Palm OS devices, this relic from another era continues to infuriate me greatly, as I feel that it exists merely to gobbles up space that could otherwise be used to bump up the screen's size and resolution. For future versions of WebOS, any necessary gestures could (and should) be accomplished onscreen or mapped to a keyboard key if desired. A simple bump to a 320x480 2.8" screen would make a world of difference in making the Veer a device capable of genuine productivity, not to mention reduce the level of fragmentation currently plaguing the WebOS ecosystem.
Screen size and resolution aside, the Veer's screen is significantly better than the Pixi Plus' LCD. Blacks are blacker, colors are richer, and the Veer handles motion in fast action games better than the Pixi. With both devices cranked to the max, the Veer's screen is significantly brighter than the Pixi. I do not have any devices in the Pre family handy for testing, but the Veer's LCD definitely seems to be better than what I have seen on any other WebOS device.
As I mentioned above, the Veer is imminently usable one-handed as far as web browsing or doing any task not involving text input. In addition, landscape-oriented activities such as web browsing, video watching or playing Angry Birds because incredibly more satisfying without having to deal with an exposed keyboard in the way. However, the lack of any kind of on-screen input for WebOS is really becoming quite distressing. Despite the minuscule screen, it would still be nice to have the option of some Graffiti 1 finger strokes or robust speech-to-text dictation capabilities!
OS & Performance
Again, I will delve more into this in the full review but there's no arguing about HP's claim that the Veer mitigates all of the Pixi's performance issues. Everything is so much snappier and responsive, whether gaming or in just general day to day navigation throughout WebOS. Doubling the RAM and moving to a newer CPU that is 200Mhz faster has certainly addressed most of the performance complaints with the older WebOS devices. That said, even with significantly fewer pixels to push around, things on the Veer still feel a step slow compared to the latest crop of Apple iOS devices or 1Ghz+ Android superphones.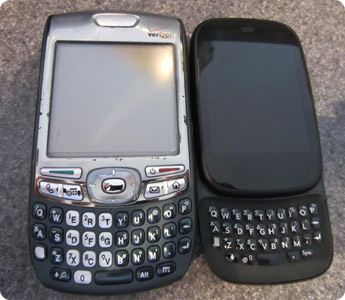 Despite its tiny size, the Veer remains a multitasking champ. I had over 41 cards open simultaneously and did not experience the dreaded "too many cards" out of memory message. Voice dialing is FINALLY here, courtesy of Nuance, and it's actually baked into the OS, not a flaky add-on like we had in the Palm OS days.
Battery Life & Miscellaneous
Out of the box, the Veer is running HP WebOS 2.1.2. Out of the 8GB of internal storage present, a bit over 6.0GB remains available immediately for user storage.
After nearly two hours of sporadic testing (no BT, no wi-fi, 10 minutes of Angry Birds, 10 minutes of web browsing over HSPA, 5 minutes of voice calls, screen either at maximum brightness or 1/2) I had about 80% of my battery remaining.
Stay tuned for our upcoming review of the HP Veer 4G in the coming weeks.
Article Comments
(237 comments)
The following comments are owned by whoever posted them. PalmInfocenter is not responsible for them in any way.
Please Login or register here to add your comments.

Only the first 50 comments are displayed within the article.
Click here for the full story discussion page...